2007 Swiss Dressage Championships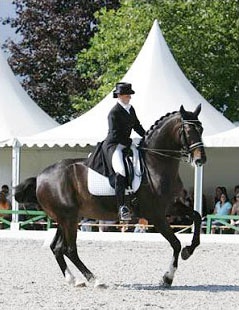 Veronika Marthaler and Romario became the 2007 Swiss Dressage Champions at the national championships in Grabs, Switzerland, August 9-12, 2007. Marthaler put in a unique feat as she became national champion in her first year riding at Grand Prix level.
In the Grand Prix, Marthaler and Romario placed third with 71.042% behind Silvia Ikle on Salieri CH and Christian Pläge on Regent. Due to a minor injury in the warm up ring on the second day, title favourite Silvia Ikle and Salieri withdrew from the competition and cleared the field for Marthaler to ride to the champion's title.
The battle was still tough in the two following rounds as Marthaler and Marie Line Wettstein were breathing down each other's necks. Marthaler won the Grand Prix Special with 72.120% and Wettstein won the Kur to Music with 76.350%. Christian Pläge placed third after having received a 0 for the walk, which did not cover the obligatory length of 20 meters.
The gold medal went to Veronika Marthaler, silver to Marie Line Wettstein and bronze to Christian Pläge.
"I am totally happy because I never expected to achieve this at this point in time. I want to thank Silvia Ikle, who has believed in me and who offered the ride on Romario to me. She is my trainer and motivates me all the time. Only through her I was able to achieve this big victory," Marthaler said.
Silvia Ikle was also ecstatic about the victory of her student. "To me this victory is as beautiful as winning the title myself," Ikle said.
Text by Birgit Hermann
Results
Round 1 - Grand Prix
1. Salieri CH - Iklé, Silvia - 74.458 %
2. Regent - Pläge, Christian - 71.833 %
3. Romario - Marthaler, Veronika - 71.042 %
4. Le Primeur - Wettstein, Marie-Line - 69.333 %
5. The Lion King B - Eversfield-Koch, Elizabeth - 68.375 %
6. Conterno - Schärli, Patricia- 66.875 %
7. Ackeley - Hoffmann, Lilli - 66.292 %
8. Robespierre - Staub, Simonne - 66.167 %
9. Lee Roy IV CH - Blattmann, Walter - 65.083 %
10. Del Vento - Duckworth, Samuel - 64.167 %
11. Amaro Amabile - Jüstrich, Isabel - 64.083 % .
12. Wesergeist - Zuber, Jeannine - 63.542 %
13. St.Ludwigs Aquilino - Senn, Eva - 62.833 %
13. Centro - Schärli, Patricia - 62.833 %
15. Laser III - Larsen, Jeanette - 62.667 %
16. Hello Yellow - Rindlisbacher, Caroline - 61.125 %
17. KK Aerobic Firfod - Järmann, Annemarie - 58.875 %
Round 2 - Grand Prix Special
1. Romario - Marthaler, Veronika - 72.120 %
2. Le Primeur - Wettstein, Marie-Line - 71.360 %
3. Regent - Pläge, Christian - 69.640 %
4. Conterno - Schärli, Patricia - 69.440 %
5. Robespierre - Staub, Simonne - 67.280 %
6. The Lion King B - Eversfield-Koch, Elizabeth - 65.920 % .
7. Ackeley - Hoffmann, Lilli - 65.640 %
8. Hello Yellow - Rindlisbacher, Caroline - 65.240 %
9. Lee Roy IV CH - Blattmann, Walter - 65.120 %
10. Del Vento - Duckworth, Samuel - 64.960 %
11. Laser III - Larsen, Jeanette - 63.120 %
12. Amaro Amabile - Jüstrich, Isabel - 62.000 %
13. St.Ludwigs Aquilino - Senn, Eva - 61.440 %
Round 3 - Grand Prix Kur to Music
1. Le Primeur - Wettstein, Marie Line 76.350%
2. Romario - Marthaler, Veronika - 74.600%
3. Regent - Plage, Christian - 70.200%
4. Conterno - Scharli, Patricia - 70.150%
5. Robespierre - Staub, Simonne - 69.950%
6. Del Vento - Duckworth, Samuel - 69.650%
7. The Lion King B - Eversfield-Koch, Elizabeth - 69.450%
8. Amaro Amabili - Justrich, Isabel - 67.250%
9. Lee Roy III - Blattmann, Walter - 66.550%
10. Laser - Larsen, Jeanette - 66.050%
11. Hello Yellow - Rindlisbacher, Caroline - 60.250%
2007 Swiss Dressage Championships
Gold: Marthaler,Veronika - Romario - 217,762
Silver: Wettstein,Marie-Line - Le Primeur - 217,043
Bronze: Pläge,Christian - Regent - 211,673
4. Schärli,Patricia - Conterno - 206,465
5. Eversfield-Koch,Elizabeth - The Lion King B - 203,745
6. Staub,Simonne - Robespierre - 203,397
7. Blattmann,Walter - Lee Roy IV - 196,753
8. Jüstrich,Isabel - Amaro Amabile - 193,333
9. Rindlisbacher,Caroline - Hello Yellow - 186,615
Photo courtesy: Stall Moravia
Related Links
Widmer, Reutimann and Wettstein Win at 2006 Swiss Dressage Championships
Silvia Iklé Supreme at 2005 Swiss Dressage Championships 
Scores 2004 Swiss Dressage Championships 
Pläge, Sigrist and Manser, titleists at the 2003 Swiss Dressage Championships