2007 Bundeschampionate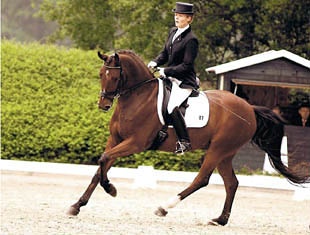 Piko's Son and Denaro were the winners of the Bundeschampionate Qualifier in Riesenbeck, Germany, July 12-15, 2007. Held in conjunction with the Westfalian Regional Championships, this BuCha qualifier was the one before last Westfalian qualifier.
In the 5-year old division Henrike Sommer steered the Westfalian stallion Piko's Son (by Pik Labionics x Weinberg) to a winning score of 8.5. Helen Langehanenberg and Furst Khevenhüller, a Rhinelander stallion by Florestan x Rohdiamant, landed a second place with 8.3. Sebastian Heinze and Moncassado (Munchhausen x Weltmeyer) finished third on 8.0.
Grand Prix rider Katrin Bettenworth achieved an 8.2 for her winning ride on the bay Hanoverian gelding Denaro (De Niro x Warkant). Sebastian Heinze and Rotwelsch (Rotspon x Davignon) scored 8.0. They were the only two 6-year old pairs in Riesenbeck to qualify for Warendorf.
Results
5-year old Dressage Horses
1 Piko's Son - Sommer,Henrike - 8.5
2 Fürst Khevenhüller - Langehanenberg,Helen - 8.3
3 Moncassado - Heinze,Sebastian - 8.0
4 Rockport vF - Fircks,Johanna von - 7.7
4 Dante - Klimke,Ingrid - 7.7
6 Sandro Bedo - Steiner,Jan - 7.6
7 Luizao - Dietrich,Jörg - 7.4
8 Ramoneur - Oelrich,Oliver - 7.3
9 Highlight O - Koppelmann,Carola - 7.2
10 Royal-Rubin - Herkenroth,Iris - 7.1
11 Die Insel - Bettenworth,Katrin - 7.0
11 Sam - Kammesheidt-Voss,Verena - 7.0
13 Lassida - Auch,Melanie - 6.9
13 Showmaker - Williams,Garry - 6.9
15 Maurice Chaval - Albers,Ilke - 6.8
16 Crosswind - Leinker,Andrea - 6.7
17 Edward Louis - Stommel,Wibke - 6.6
18 Sandro's Black Lady - Berg,Sebastian - 6.5
18 Rio Lando - Langehanenberg,Helen - 6.5
RET
Dominique - Kitzing,Jenny
Friedchen - Sauerwald,Tanja
6-year old Dressage Horses
1. Denaro - Katrin Bettenworth - 8.2
2. Rotwelsch - Sebastian Heinze - 8.0
3. Florida Queen - Olaf Fetzer - 7.6
4. Don Laurus - Oliver Oelrich - 7.5
5. Peking - Jan Steiner - 7.3
6. Ronny - Sebastian Heinze - 7.2
7. Del Cento - Ludger Knapmöller - 6.9
8. Oriano - Andrea Jansky - 6.7
9. Windbreaker - Jörg Dietrich - 6.5
10. Soubirous - Hiltrud Mormann - 6.3
11. Wyomi - Heidi Egbert - 6.2
12. Davis Sun - Uwe Düker - 5.8
Back to the 2007 Bundeschampionate Index