2007 Bundeschampionate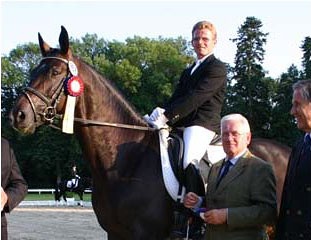 Sorento, Famaso and Don Laurus were the winners of the Oldenburg regional Bundeschampionate selection trial in Rastede, July 17-22, 2007. Nine 5-year olds and five 6-year olds achieved the Bundeschampionate qualification score of 8.0 to compete in the Finals
in Warendorf, September 5 - 9, 2007.
The 5-year old division was divided into two groups. Heiko Klausing won group one aboard the Dutch owner Oldenburg stallion Sorento (Sandro Hit x Donnerhall). Klausing scored 8.5 and beat Yvonne Reiser on the Oldenburg stallion Dark Fire (by Donnerhall x Feiner Stern. The Tenterhof owned stallion scored 8.2 for his test.
The winner of group 2 was Andrea Müller-Kersten aboard the Oldenburg stallion Famaso (Furst Heinrich x Aletto). The pair scored 8.3 and topped the leader board ahead of second placed Tanja Lammers on the black beauty Faustinus (by Furst Heinrich x Starway xx). Lammers and the Gestut Vorwerk sire scored 8.1.
In the 6-year old division, Olivier Oelrich claimed stake on the first place. Abaard the Sachsen Anhalt stallion Don Laurus (by Donjour x Lauries Crusador xx) he scored 8.5 and won the class. Ines Westendarp placed second with Marta Kaufmann's Oldenburg mare Dance with Me (by Dream of Love x Rohdiamant). The pair achieved a mark of 8.4.
Results
5-year old Dressage Horses - Group 1
1. Sorento - Klausing, Heiko - 8.5
2. Dark Fire - Reiser, Yvonne - 8.2
3. Duino - Wulferding, Kira - 8.0
3. El Baylando - Weichert, Dieter - 8.0
3. Da Capo B - Beneke-Backhaus, Kathrin - 8.0
3. Simsalabim - Möller Dr., Ulf - 8.0
5-year old Dressage Horses - Group 2
1. Famaso - Müller-Kersten, Andrea - 8.3
2. Faustinus - Lammers, Tanja - 8.1
2. Weitsicht - Kerner, Stefanie - 8.1
4. For me - Burger, Hermann - 7.7
4. Diamantina - Tomkinson, Maree - 7.7
4. First Feroz - Lammers, Tanja - 7.7
13. Luxor - Henschke, Miriam - 7.6 F
13. Cleopatra - Bültjer, Erik - 7.6
13. Donna Maxima T - Günther, Frank - 7.6
16. Die Insel - Bettenworth, Katrin - 7.5
16. Wisdom - Bültjer, Erik - 7.5
18. Legolas - Hansen, Insa - 7.4
18. Dream Catcher - Burger, Katrin - 7.4
18. Waterloo - Holtgers, Eike - 7.4
18. Rockport vF - Fircks, Johanna von - 7.4
22. Rachmaninof - Kleine Stüve, Ruth - 7.3
23. Lady S - Kerner, Stefanie - 7.2
24. Morning Star - Heider, Kerstin - 7.1
24. Dal Segno - Beenken, Hilke - 7.1
26. Fair Lady - Günther, Frank - 7.0
27. Santiago - Müller, Sandra - 6.8
28. Liaison AS - Hannöver, Ralf - 6.7
29. Welcome - Mayer, Kerstin - 6.4
30. Rubinnio - Kelterborn, Frauke - 6.3
31. Bela pharm's Aluna - Bergmann, Ann-Kathrin - 6.2
32. Alina - Raffel-Schwepe, Anja - 6.1
33. Salut le Bon - Wilimzig, Anja - 6.0
33. Shuna - Abrahams, Viola - 6.0
35. What a Dream - Wemken, Sandra - 5.8
36. Lauries As - Kötter, Sandra - RET
6-year old Dressage Horses
1. Don Laurus - Oelrich, Oliver - 8.5
2. Dance with me - Westendarp, Ines - 8.4
3. Rigamento OLD - Weisbrod, Katja - 8.2
4. Don Bailey - Möller Dr., Ulf - 8.1
5. Dragon Dancer - Henschke, Miriam - 8.0
6. Florenzio - Hannöver, Ralf - 7.6
7. Lancietto W - Taylor, David - 7.4
8. Don Giovanni - Koschel, Christoph - 7.3
9. Despina - Schrandt, Angela - 7.0
10. Raskovia - Pohlmann, Dirk - 5.7
11. Woody P - Platen, Ute von - RET