2007 European Pony Championships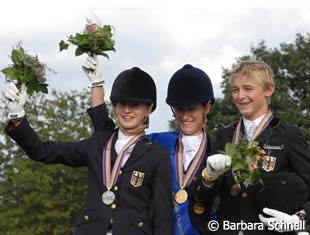 Louisa Luttgen and the chestnut licensed pony stallion Dornik B won the 2007 European Pony Championships in Freudenberg, Germany. After the award ceremony, Luttgen underwent the traditional winner's "baptism" by being thrown in the water jump.
Silver medal winning Carlotta Hassenburger celebrated her 14th birthday during the championships and her friends and family came out with a special banner to celebrate. The 2006 European Pony Champion Lydia Camp. Camp had chosen Freudenberg over the big Trakehner show in Hannover (where her parents are competing) to see Dulcia soaring to the top again.
Sönke Rothenberger won the bronze medal aboard the 2005 European Pony Champion, Deinhard. His sister Sanneke Rothenberger was the fourth best German pony rider and won the consolation finals with Konrad (also an individual European Pony Champion).
Antoinette te Riele & Danny Boy B, pretty much the shooting stars of this championship. They had to enter the arena during a thunderstorm that blew over the fences in the parcours, and they still became the only non-German pair to crack the 70%-mark. The test was interrupted for half an hour immediately after their ride .. but there was no need for them to repeat it, because they had proved what they can do! 
All photos copyrighted Barbara Schnell 
No Reproduction Allowed without Permission/Payment
Back to the 2007 European Pony Championship Index