2007 British Young Dressage Horse Championships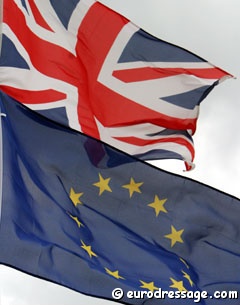 British Dressage announced the winners of the fourth British Dressage Young Horse & Breeding Championships, the showcase for British-bred horses and youngsters, which was held at Addington Manor Equestrian Centre, Bucks, 11-12 July 2007.
Nirvana Spa Young Horse Prix St Georges Champion: 
Showtime, KWPN stallion by Contango, dam sire Hautain, ridden by Gemma Green, owned by Mrs J Green and bred by H de Man, Holland
Shearwater FEI Six-year-old Dressage Horse Champion: 
Soul Sister Westfalian mare by Sandro Hit, dam sire Florestan, ridden by Jane Gregory, owned by Greenlands Farm Management Ltd, bred in Germany. Soul Sister also won the free embryo transfer, which was awarded to the best ridden mare, sponsored by Madeleine Campbell of Hobgoblin's Stud.
Shearwater National Six-year-old Dressage Horse Champion: 
Aspen Grove Duvie, Oldenburg gelding by Ducello, dam sire Werther, ridden by Gareth Hughes, owned by Aspen Grove Dressage, bred by Dr Uwe Pape, Germany
Shearwater FEI Five-year-old Dressage Horse Champion: 
Valegro, gelding by Negro, ridden by Charlotte Dujardin, owned by Carl Hester, bred by Gertjen van Olst, Holland
Shearwater National Five-year-old Dressage Horse Champion: 
Summerhouse Don Diego, Danish Warmblood gelding by Don Schufro, dam sire Racot, ridden by Matt Frost, owned by Helen Gallop, bred in Denmark
Shearwater National Four-year-old Dressage Horse Champion: 
Wocata, Danish Warmblood mare by Painted Black, dam sire Locato, ridden and owned by Nicola Mahoney, bred by P Snepvangers, Holland
Baileys Horse Feeds Dressage Breeding Overall In-Hand Champion: 
G F Deville, BWBS colt, born 2005, sire Dimaggio, dam sire Biotop, owner and breeder Paul and Sandy Senior
Baileys Horse Feeds Dressage Horse Youngstock Champion: 
G F Deville, BWBS colt, born 2005, sire Dimaggio, dam sire Biotop, owner and breeder Paul and Sandy Senior
Baileys Horse Feeds Dressage Horse Foal Champion: 
Sorlina, BWBS filly, born 2007, sire Sorento, dam sire Chapman, owner and breeder Claire Skinner
Baileys Horse Feeds Dressage Pony Breeding Champion: 
Sheepcote Dancer, Welsh part-bred filly, born 2006, sire Dr Doolittle, dam sire Sarnau Valentine, owner and breeder David and Serena Pincus
Baileys Horse Feeds Dressage Horse Broodmare Champion: 
Furst Kiss, Oldenburg mare, born 2003, sire Furstenreich, dam sire Acord, owner and breeder Jacke Mathieson