2007 World Championships for Young Dressage Horses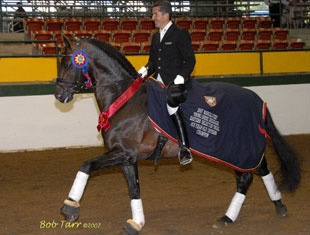 For Dr. Cesar Parra the equestrian year of 2007 has been one filled with change, but the future is bright as new partnerships with owners and horses have created opportunities that can only lead to greater success. Even though Cesar has qualified to compete for Colombia
at the 2007 Pan American Games in Rio de Janeiro, Brazil, and has won the 2007 U.S. Young Horse Selection Trials for the 2007 World Championships for Young Dressage Horses in Verden, Germany, he has chosen for a summer of serenity at home in Whitehouse Station, New Jersey.
"There is a German saying which goes, "you cannot direct the wind, but you can adjust the sails."  That is what I am doing at Performance Farm nowadays," Parra said. "After lots of hard work and preparation, which involved many people, I have decided to stay home this summer.  I am excited about this decision since I have never been able to enjoy my farm in New Jersey and my family for an entire summer."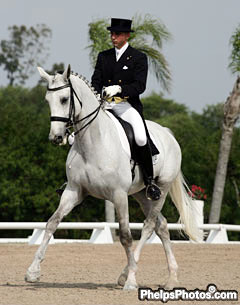 The Colombian native Dr. Cesar Parra qualified for the 2007 Pan American Games aboard his student's horse Silver Label. Owned by successful former young rider Michael Shondel, "Silver" is a Swedish warmblood gelding by Rambo which Parra discovered as a youngster. Cesar competed Silver, for instance, at the CDI Raleigh where he scored 68.333% in the Prix St Georges.  
Together with fellow country man Eduardo Munoz, Parra was selected to show for Colombia at the Pan Am Games. However, the ramification of the total cost to travel to and compete at the Pan American Games without the financial support of a national federation was too high to economically justify participation.  Now instead of the Pan Ams, which are at the small tour level, Cesar and Michael Shondel have decided to focus on getting Silver Label ready for Grand Prix.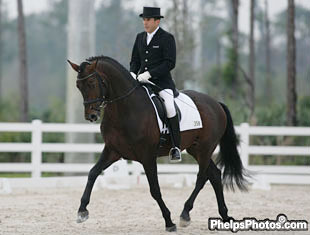 Cesar is also not going to Germany to the 2007 World Championships for Young Dressage Horses with the 6-year old Oldenburg stallion Donavan (by Diamond Hit x Consul). Facing extremely difficult eligibility requirements for the World Championships, Parra found out at the end of the entire U.S. official selection process that winning the U.S Young Horse Selection Trials with a score of 8.268 aboard the American owned Donavan was not enough to represent the United States in Verden. Even though the horse is owned by Cesar's close friends and sponsors Dr. Jackson and Carolyn Morgan, Cesar cannot represent Donavan for the U.S. as a Colombian citizen. To obtain a wild card and represent his native country Colombia in Verden, the horse has to be Colombian owned. Qualifying for Verden proved to be a catch-22.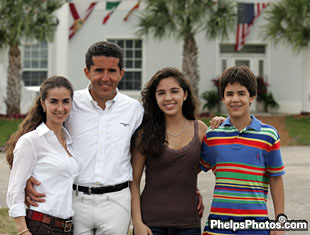 "As much as I would have loved to represent the United States at the 2007 World Young Horse Championships with Donavan, I am equally happy to stay at home and prepare him for the 2007 USEF/Markel Young Horse Dressage Championships in Kentucky [September 14-17, 2007]. Donavan was the highest scoring 6-year old in the United States and I'm extremely proud of him. I am determined to do my best with him, because he's a world class horse, and I will aim for the highest in Kentucky!"
Top Photo by Bob Tarr - All other photos copyrighted: Mary Phelps/Phelpsphotos.com
Related Links
A Fresh Start for Dr. Cesar Parra with New Horses
German Reserve Bundeschampion Donavan To Join Dr. Cesar Parra in the United States