2007 World Championships for Young Dressage Horses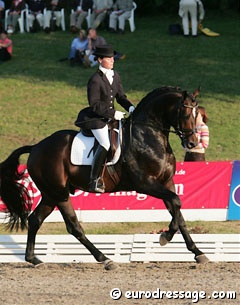 Reesink Horses' and Fritz Kundrun's Hanoverian licensed stallion Roosevelt has qualified to compete for Germany at the 2007 World Championships for Young Dressage Horses in Verden , Germany , August 2-5, 2007.
Under Dutch young horse specialist Hans Peter Minderhoud, Roosevelt impressed the selection committee at the German selection trial in Warendorf on June 26 and was one of six 5-year olds who obtained a berth for the World Championships.
The dark bay Hanoverian stallion Roosevelt (by Rotspon x Lauries Crusador xx x Grande) is owned by American Fritz Kundrun in partnership with Reesink Horses. The stallion, which was stationed at stud in Sweden , was purchased by the duo in March but arrived in The Netherlands on June 11, 2007 . Only two weeks in training with Minderhoud, Roosevelt showed off his outstanding rideability, superb temperament and three top quality gaits in the Warendorf show ring.
"My wife and I are elated to have Roosevelt qualified for the 2007 World Championship in Verden," an ecstatic Fritz Kundrun said.
Roosevelt is a Hanoverian branded and licensed stallion who is also approved for the Danish and Swedish warmblood society. He was the performance test champion both in Denmark and in Sweden and scored 10 for walk, 9 for trot, 8 for canter, and 10 for rideability at the Swedish testing. Even though it is a minor detail, there is some conflict in the spelling of Roosevelt's name. The dark bay stallion is registered as "Roosevelt" with the Hanoverian verband and the German Equestrian Federation, but in Denmark and Sweden he is approved as "Rosevelt." As he is an American owned stallion, Kundrun prefers the correct Roosevelt spelling, in reference to the former U.S. president.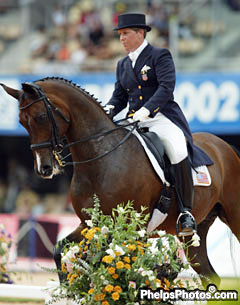 The recently retired Kundrun and his wife Claudine are horse lovers and dressage enthusiasts to the bone and have been the sponsors of American Olympic team rider Sue Blinks for 23 years. As owner of the recently deceased Hanoverian Flim Flam, Fritz was able to participate in the successes Blinks booked aboard the gelding. Flim Flam was one of the most accomplished dressage horses in the United States with an uninterrupted membership on the U.S. team at two World Championships (Rome 1998, Jerez 2002) and at the 2002 Olympic Games in Sydney.
"It has always been one of my earliest dreams to own a breeding stallion. I bought Flim Flam many years ago as an approved Hanoverian stallion and wanted him in the United States as a dressage hopeful," Kundrun explained. "But I was also hoping to have him breed. After his successful participation at the Bundeschampionate, where he won the stallion class and placed third overall, it became apparent that we could not keep him as a stallion in order to be also successful in Dressage."
As a gelding Flim Flam was the anchor on the U.S. dressage team for many years; a feat that made Kundrun extremely proud. The acquisition of Roosevelt has rekindled his earliest dream. "I love to own a breeding stallion with the talent and the necessary demeanor to advance to the highest level of dressage. I have looked at many, but Roosevelt struck me at first sight to have it all," he stated.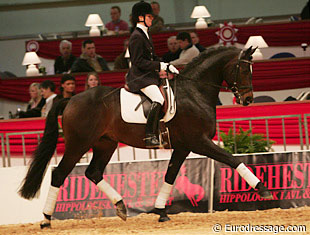 After the 2007 World Championships, Roosevelt will travel to the United States where he will stand at stud. A favourable ranking at the Championships should promote Roosevelt as a banner breeder stallion in the United States. Roosevelt will also go in full training with Allison Brock, a former working student of Sue Blinks and now head rider at Kundrun's farm.
"We very much believe in Ali's talent and her determination to put in the hard work it will take to succeed. Of course, it also requires good and talented horses," Kundrun postulated. "With Ali, the best possible training and with the always necessary portion of good luck Roosevelt could also be highly successful in dressage."
With the help of Reesink Horses, Kundrun discovered and bought two more FEI dressage horses for Ali: the talented Polish warmblood Peajay, which has placed first five times out of six at Third level on the West Coast this year, and the 10-year old Dutch warmblood Palisander (by Coriander) which is trained at Intermediaire II level and ready to go Grand Prix at the end of the year.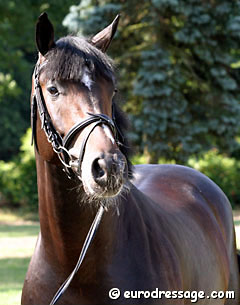 Horses are a hobby and a passion for the Kundruns, which shows in their latest 'humanitarian' project to help abused and abandoned horses. They are currently building a substantial horse facility at their Virginia farm for the "Equine Welfare Society," their charity which will care for abused and abandoned horses in cooperation with the "American Society for the Prevention of Cruelty to Animals (ASPCA) and other relevant organizations. The new barn will have a capacity of approximately 60 horses.
Fritz Kundrun has been able to enjoy the horses more than ever before. "I am not anymore fully involved in the day-to-day operations of my company and I now have much more time to devote to my hobbies: Dressage, and running a marathon once in a while. What a beautiful and rewarding combination!"
Photos copyrighted Astrid Appels/Eurodressage
Back to the 2007 WCYH Index