2007 European Pony Championships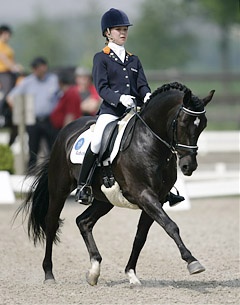 Dutch pony chef d'equipe Christa Laarakkers and the Dutch Equestrian Federation announced the pony team that will represent The Netherlands at the 2007 European Pony Championships in Freudenberg, Germany, July 18-22, 2007.
The Dutch pony team consists of:
Maria van den Dungen – Pan Tau B
Angela Krooswijk – Power and Paint
Kimberly de Jongh – Just You'N Me
Antoinette ter Riele – Danny Boy B
Reserve: Anne van der Weerd (Hoevelaken) – Quattro
The choice between Ter Riele and Van der Weerd was a hard one because both riders scored very similarly this 2007 show season. As Ter Riele got higher marks from the judges that will be judging at the Championships, she was picked for the team. In case Power and Paint drops out of the team, Angela Krooswijk will get the opportunity to take her second pony Boss Bunter to Freudenberg.
Photo copyrighyted: Digishots
Back to the 2007 European Pony Championship Index