2007 Bundeschampionate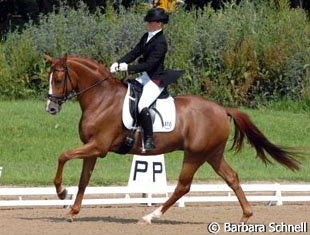 Diamantenbörse and Samira were the winners of the Bundeschampionate Qualification classes at the 2007 Rhinelander Dressage Championships in Langenfeld, Germany, on June 14-17, 2007.
Only one five-year old qualified for the Bundeschampionate finals and that's the Vechta auction horse Diamantenbörse, owned by the Luttgen family from Kerpen. Under stable rider Jessica Süss, the lovely Oldenburg mare by Diamond Hit scored 8.4 and won the 5-year old Dressage Horse division. Marlies Brakemper and Flower Power (by Furst Heinrich) placed second with 7.8, followed by Bernhard Fischer aboard Fidertanz (by Fidermark) on 7.7.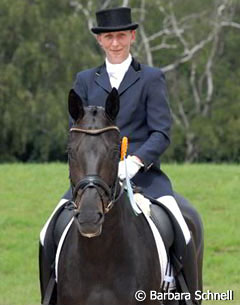 The 6-year old Dressage Horse class was won by the dark bay Rhinelander mare Samira (Sandro Hit x Rockwell) under Bärbel Förster-Henrich. The dynamic duo achieved 8.8 and reigned supreme. Stephanie Jansen and Pretender (by Prince Thatch xx x Weltmeyer) folowed in second place with 8.3. Udo Stephan Buschle and Lukow (by Lanciano x Barchat) ranked third with 7.5.
Photos copyrighted: Barbara Schnell
View a full photo report by Barbara Schnell of all the Bundeschampionate classes in Langenfeld here
Results
5-year old Dressage Horses
1. Diamantenbörse - Süss,Jessica - 8.4
2. Flower Power - Brakemper,Marlies - 7.8
3. Fidertanz - Fischer,Bernhard - 7.7
4. Franziskus - Wadenspanner,Max - 7.6
5. Louisdora - Frenzen,Annabel 24,00 - 7.4
6. Dartagnan - Nakath,Sabine - 7.3
7. Kasimir - Camp,Lydia - 7.0
7. Funkenspiel F.J. - Janßen,Sabrina - 7.0
9. Jazz Rubin - Nabben,Tobias - 6.7
10. Robinson S. - Schnell,Stefanie - 6.5
10. Pricolino - Strucken,Ramona - 6.5
12. Mayong - Camp,Katja - 6.4
12. Dewindo - Timpe,Andrea - 6.4
14. Horacio B.- Bunse,Dominique - 6.3
15. Feuertänzer - Preuß,Stefanie - 6.2
16. Lord Louis S - Schnell,Stefanie - 6.0
17. Rubinson JH - Molderings,Gudrun- 5.9
18. Fürst Falkenberg - Häschke,Antje - 5.8
6-year old Dressage Horses
1. Samira - Förster-Henrich,Bärbel - 8.8
2. Pretender - Jansen,Stephanie - 8.3
3. Lukow - Buschle,Udo Stephan - 7.5
4. Royal sugar - Klemp,Clarissa Anna - 7.4
5. Camelot - Grothe,Sabine - 7.3
5. Romeo - Schiergen,Heiner - 7.3
7. Amaro Abano - Gesing,Christian - 7.0
7. Dixieland - Timpe,Andrea - 7.0
9. White Kiss - Schleypen,Marion - 6.9
10. Dundee M - Jensen,Angoli-Anne - 6.8
11. La Valletta - Bunse,Marion - 6.1
Back to the 2007 Bundeschampionate Index