2007 European Pony Championships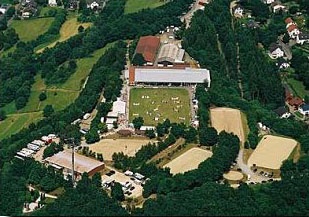 The 2007 European Pony Championships will take place in Freudenberg, Germany, on July 18-22, 2007, despite the severe damage the host equestrian facility sustained following a lightning strike.
On Saturday June 9, 2007, lightning struck the building of the Giebelwald riding society in Freudenberg which caused one building and one riding arena to burn down to the ground. Thanks to the help of many volunteers, the flames were kept under control and did not spread to the other buildings. One pony died in the fire.
Temporary stalls in a tent are placed on the scene to replace the burnt down building and the organizing committee of Freudenberg has decided to continue to host the European Pony Championships despite this severe set back.
Back to the 2007 European Pony Championship Index