2007 World Championships for Young Dressage Horses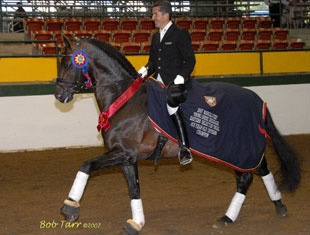 Donavan, ridden by Cesar Parra, and Cabana Boy, ridden by Chris Hickey, came out on top after two days of competition in the Markel/USEF Young Horse Dressage Eastern Selection Trials, which serve as American qualifier for the 2007 World Championships for Young Dressage Horses in Verden, Germany, in August
. The U.S. eastern selection trials were held during the Raleigh CDI-W/Y/J Capital Dressage Classic, June 1-3, 2007.
Donavan (Diamond Hit x Consul), an Oldenburg stallion owned by Dr. Jackson Morgan and Katie Riley, took an early lead in Saturday's preliminary competition with a score of 8.34. During Sunday's finale, he and Parra earned a score of 8.22 for a total score of 8.268. In the Young Horse competition, the preliminary counts for 40 percent of the total score and the finale for 60 percent. Coming in second in the Markel Six-Year-Old competition was Jessica Jo Tate and Donnermuth. They finished the first day of competition with a score of 7.66, but bounced back on Sunday to earn a score in the finale test of 8.24 to finish with a total score of 8.008. Tate and Parra were the only two in the class of 13 riders and horses to break the 8.00 mark in their final score.
In the Markel Five-Year-Old horse competition, Chris Hickey and the Hanoverian gelding Cabana Boy (Contucci out of Britania), owned by Hilltop Farm, finished up with a consistent score of 8.24. They scored 8.24 in both the preliminary and finale tests. Right on their heels was Rebecca Knollman and her Solaris Hit, a Hanoverian mare by Sandro Hit out of Great Rubina. Their preliminary score was 8.01 and their finale score was 8.08 for a total of 8.088.
The selection trials are used to determine which horses will earn an invitation to the FEI World Breeding Championships in Verden, Germany in early August. The Eastern selection trials were the last of three held in the U.S. The Central states trials were held in May at Dressage at Lamplight near Chicago and the Western trials at Dressage at Flintridge over Memorial Day weekend. Riders, owners and breeders must now anxiously await decisions. In order to have a shot at being on the invitation list, horses must score at least a 7.8 in the selections. With all three trials now completed, the U.S. Equestrian Federation will be tallying the rankings.
Article by Lynndee Kemmet for Dressagedaily.com
Photo copyrighted: Bob Tarr
Results
5-year old Dressage Horses
1 - Christopher Hickey - Cabana Boy - 8.24
2 - Rebecca Knollman - Solaris Hit - 8.088
3 - Teresa Butta - Froelich - 7.576
4 - Vasilios Haseotes - Woodoo - 7.336
5 - Jules Anderson - Vivaldi-V - 7.324
6 - Susanne Hamilton - Donauwalzer CSF - 7.208
7 - Stephany Fish - Cruiser - 7.084
8 - Mikala M Gundersen - Pik Primero - 6.944
9 - James Koford - Soltice - 6.904
10 - Hokan Thorn - Agastrofos - 6.884
11 - Tosha Zubrinsky - Furst Hans - 6.608
6-year old Dressage Horses
1 - Dr. Cesar Parra - Donavan - 8.268
2 - Jessica Jo Tate - Donnermuth - 8.008
3 - Teresa Butta - Unitas - 7.908
4 - Alex Robertson - UB40 - 7.828
5 - Boyd Martin - Jeff the Chef W - 7.616
6 - Susan Jaccoma - Harmony's FX - 7.612
7 - Lara Silver & Karen Lipp - Highlander - 7.268
8 - Meredith Morray - Donaweiss GGF - 6.948
9 - Jules Anderson - Leopold - Q - 6.924
10 - Christy Scott - Kontessa - 6.784
11 - Dana Fiore - Redford - 6.76
10 - Kristi Truenbach Lund - Reel Adventure - 6.68
11 - Nancy Hinz - Collector's Item - 6.476