2007 Bundeschampionate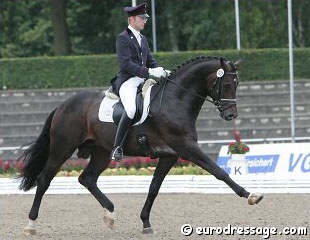 A huge Bundeschampionate qualifier was held at the regional dressage and show jumping show in Isernhagen, Germany, May 31 - June 3, 2007. The 5-year old division was split into two groups of which the winners were Don Auriello and Weitsicht
, while Riccio was the winner in the 6-year old division.
Birgit Wellhausen-Henschke and Don Auriello scored the highest mark of all 5-year olds. Henschke received 8.8 for her ride on Klaus Ehlen's Hanoverian stallion (by Don Davidoff x White Star). PSI rider Stefanie Kerner and Weitsicht had the best score in the other group and the second highest score of all 5-year olds. The Oldenburg stallion by Welt Hit I x Andrew is bred and owned by Ullrich Kasselmann of Hof Kasselmann in Hagen, Germany.
In the 6-year old division, the Westfalian licensed stallion Riccio (by Riccionze) was the winner. Under Martin Stamkotter, the dark bay stallion scored 8.8 and beat Dr. Ulf Möller on Fine Time (by Florestan x Weinberg) with 0.2 point difference. Wolfhard Witte and the Hanoverian stallion Rascalino (by Rotspon) landed a third place.
Photo copyrighted: Astrid Appels/Eurodressage
Results
5-year old Dressage Horses
1. Don Auriello - Wellhausen-Henschke,Birgit- 8.8
1. Weitsicht - Kerner,Stefanie - 8.7
2. Delon - Finken,Holga 8.5
2. Donna Antonia - Bramall,Leonie 8.5
3. Bertoli W Wittig,Brigitte - 8.4
3. Ronja M - Möller,Eva - 8.3
3. Rossano R - Hansen,Insa- 8.3
4. Dompteur - Bache,Isabel 8.1
5. Luxor - Henschke,Miriam 7.7
5. Die Sonne - Henschke,Miriam 7.5
5. Fabriana - Prim-Tietz,Karin 7.5
6. Dolcetto - Frieling,Sandra 7.4
6. Die Insel - Bettenworth,Katrin 7.4
8. Le Rouge - Kochskämper,Nicole - 7.3
8. Wisdom - Bültjer,Erik - 7.3
8. Don Dior - Ersil,Susanne - 7.3
11. Donna Maxima T - Günther,Frank - 7.2
11. Coronado-K - Schomerus,Dora - 7.2
11. Simsalabim - Möller Dr.,Ulf- 7.2
11. Dernier Crie - Voss,Esther - 7.2
15. Legolas - Hansen,Insa - 7.1
15. Don Charly - Frieling,Sandra - 7.1
17. Danone II - Wahler,Theresa- 7.0
17. Sandrofino - Finken,Birgit - 7.0
17. Sir Arnold - Finken,Birgit - 7.0
17. Fidertanz RH- Deerberg,Sabrina - 7.0
21. Laokoon B - Gießelmann,Jan-Dirk - 6.9
21. Ferrari - Fiebelkorn,Anna-Sophie - 6.9
21. Clooney - Krökel,Janine- 6.9
24. Aloubetto - Malissa,Andrea - 6.8
25. Wyclef Jean - Gießelmann,Jan-Dirk - 6.5
26. Coco Paradieso - Schrader,Klaus - 6.3
27. Ragtime - Ohlrogge,Regine - 6.2
Shocoman - Fiebelkorn,Anna-Sophie - RET
Discovery - Lappann,Carolin - RET
6-year old Dressage Horses
1. Riccio NRW - Stammkötter,Martin - 8.8
2. Fine Time - Möller Dr.,Ulf - 8.6
3. Rascalino - Witte,Wolfhard - 8.3
4. Dreamer - Baumgart,Hannes - 8.0
5. Gynter - Canton,Jason - 7.5
6. Denaro - Bettenworth,Katrin - 7.4
7. Florestino - Schomerus,Dora - 7.2
8. Fine Fynn - Frieling,Sandra - 6.5
Rembrandt Royal - Platen,Julia-Katharina - RET