2007 World Championships for Young Dressage Horses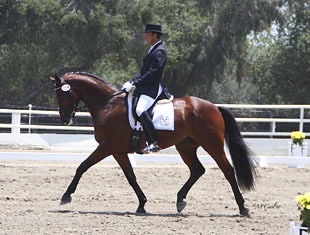 Lord Albert and Sancette won the American Western Young Horse Selection Trial at Dressage at Flintridge, May 25-27, 2007. The American selection trials for the 2007 World Championships for Young Dressage Horses, held in Verden, Germany, in August, are held at three shows:
a western, central and eastern trial. While the youngsters are actually qualifying for the USEF/Markel American Young Horse Championships, the two highest placing horses in the country earn a ticket to the World Championships at the same time.
Dressage at Flintridge is one of the highlight shows of the California season. This year, the show hosted the Markel/USEF Young Horse Dressage Western Selection Trial. There was a record field of 15 entries in the Five-Year-Old Division reflecting the growth and strength of the three-year-old program.
David Blake won the 5-year old division aboard Lord Albert, a Hanoverian branded Londonderry x Brentano II offspring. The pair scored a total of 8.376% and beat Dutch native Willy Arts aboard the Dutch mare Valeska (8.112%)
"I found Albert at Steffen and Shannon Peters' barn," says Blake. "I loved his conformation, his gaits. He was a bit naughty, but his potential was so obvious, I decided I had to buy him. I just knew, if I could get him to focus and use his energy in a positive way, he could be brilliant. I bought Albert the end of October, last year, and it took a while to get him to settle," laughs Blake. "Every day, I try to make sure to get him working over his back, swinging and loose. I only concentrate on reactions and transitions for a few minutes, towards the end of a schooling session. I really want him to stay happy in the work."
"Flintridge was a great and pleasant experience, "says Blake, "Albert was more willing in the show ring then I would ever have imagined he could be at this stage." Blake prepared for the three days of competition at Flintridge by working on Albert's fitness and conditioning, doing canter laps and other kinds of wind work.
In the 6-year old division, Dirk Glitz and the Hanoverian gelding Sancette (Sandro Hit x Contender) narrowly beat Lars Holmberg on his Danish stallion, Mix Max (Milan x Bajaczo xx).
Glitz says that even the first video he saw of Sancette, he told business partner and FEI trainer Gwen Blake, "This is one of the nicest horses I've seen in a long time." Glitz moved to the U.S. in 2001, but in his native Germany, rode many times in the Bundeschampionat, the German Young Horse Championships from which so many top sport stars have emerged. Glitz smiles, "And Sancette just keeps improving."
Lars Holmberg first saw Mix Max as a 2 ½ year old in Denmark, and told breeder Joergen Olsen that if the young horse did not pas the stallion approvals, he would buy him. "But then," laughs Lars, "he passed—and I knew I had to buy him anyway!"
Lars says that it is Mix Max' rideability and temperament that make it worthwhile to keep him a stallion. "He is always so nice to deal with, and lots of energy, always ready to go. It's great!"
Mix Max only did the 30 days test, so to gain final approval, the Danish Verband has certain requirements, and the Young Horse program fit in very well, explains Holmberg, "So we decided to see if the horse could do them."
Results
5-year old Dressage Horses
1 - David Blake - Lord Albert - 8.376%
2 - Willy Arts - Valeska - 8.112%
3 - Mette Rosencrantz - Donatello - 7.840%
4 - Barbi Breen-Gurley - Vindicator - 7.784%
5 - Kathleen Whetsell - Winslett - 7.764%
6 - Claire Darnell - Calimar - 7.712%
7 - A. Whit Watkins - Cipriani - 7.576%
8 - Sandra Burns-Gardner - Hit Pararde - 7.508%
9 - Marilyn Sabovich - Quno - 7.456%
10 - Maria Lind Dickerson - Superman - 7.428%
11 - Nicholia Zamora - Volando - 7.336%
12 - Lehua Custer -Wintersnow - 7.316%
13 - David Blake - Vancouver - 7.028%
14 - Erika Reining - Donovan - 6.956%
15 - Heather Oleson - Victor - 6.896%
6-year old Dressage Horses
1 - Dirk Glitz - Sancete - 8.020%
2 - Lars Holmberg - Mix Max - 7.968%
3 - Kathleen Raine - Mantika - 7.848%
4 - Jo Moran - Undercover - 7.304%
5 - Teri Hallman - Amore RBF - 7.016%
Read the complete story with photos at Dressagedaily.com
Photo copyrighted: McCool Photo