2007 World Championships for Young Dressage Horses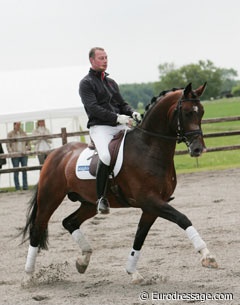 The Danish Warmblood Society published the long list of Danish horses selected to get qualified for the 2007 World Championships for Young Dressage Horses in Verden, Germany, in August. The list contains many new horses but also several routined combinations, such as Treldegaards Shantiana, who placed fourth at last year's championships, and Atterupsgaard Molberg.
This year a group of enthusiastic breeders and riders outside the Danish Warmblood Society succeeded in their efforts to let other breeds than just Danish Warmblood represent Denmark in the WCYH in Verden. The Danish Trakehner Daughter Society and the Danish Holsteiner Breeding Society were entitled to apply for the competition. The Trakehner stallion Blue Hors Hertug (Schwadroneur/Donauwind) is sire to the major part of the young horses, who were selected for the long list. There is also on pure bred Trakehner selected this first year, the approved stallion Kafelnikov (Ladroneur x Camelot).
5-year old Dressage Horses
Merlot's Surprise (Blue Hors Hertug x Domino) - rider: Louise Panum
Chatel's Schurana (Blue Hors Don Schufro x Rawage Quintus) - rider: Joachim Thomsen
Sundorf's Aquino (Akinos x Leandro) - rider: Hanne Bender
Falkhor (Blue Hors Hertug x Uffe Korshoejgaard) - rider: Vibeke Theilgaard Risvig
Floran Guldbjerg (Florestan x Fruhling) - rider: Lone Bang Larsen
Don Dorissimo (Don Frederico x Ibikus) - rider: Joachim Thomsen
Valloes Hero (Blue Hors Hertug x Blue Hors Romancier) - rider: Martin Holfelt
Don Quixote (Blue Hors Don Schufro x Rambo) - rider: Jan Møller Christensen
Valloes De Baron (De Niro x Feiner Stern) - Joachim Thomsen
Herbie Hancock (Blue Hors Hertug x Michellino) - rider: Rune Willum
Espresso (Heslegards Rubin x Michellino) - rider: Thine Melgaard
Wiesentanzerin (Don Larino x Wolkenstein II) - rider: Malene Olsen
6-year old Dressage Horses
Treldegaards Shantiana (Blue Hors Hertug x Diamond) - rider: Dorhte Hoeck
Chic (Carano x Racot) - rider: Susanne Barnow
Atterupgaards Molberg (Michellino x Rambo) - rider: Sanne Hennigsen
Mosegardens First Class (Blue Hors Future Cup x Blue Hors World Class) rider: Lene Hansen
Doerr's Zafran (Blue Hors Don Schufro x Blue Hors World Class) - rider: Bettina Laisbo
Donna Silver (Blue Hors Don Schufro x Willemoes) - Rider: Bettina Laisbo
Kildevangs Mignon (Michellino x Filon d'Or) - rider: Kristoffer Mejlhede
Kafelnikov (Ladroneur x Camelot) - rider: John Hvalsøe Saul
Quaterback (Quite Easy x Lagano) - rider: Joachim Thomsen
Jose Kilen (Jazz x Royal Z) - rider: Tia Malling Jensen
Horsebo Smarties (Gribaldi x Ramiro's Bube) - rider: Michael Søgaard
Photo copyrighted: Astrid Appels/Eurodressage
Back to the 2007 WCYH Index