2007 Bundeschampionate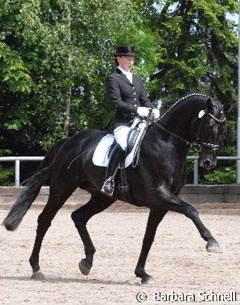 Dramatic and Deveraux were the grand winners of the Rhinelander Bundeschampionate qualifier in Neuss-Grefrath, Germany, on May 19, 2007. Both horses scored high marks and especially Deveraux was only the second horse to crack the 9.0 barrier during the 2007 BuCha qualification season.
The 5-year old Dressage Horse class was won by Jana Freund aboard the super talented Hanoverian licensed stallion Dramatic (by Don Frederico x Weltmeyer). Owned by British Grand Prix team rider Fiona Bigwood, Dramatic has three world class basic gaits. Under his current rider and trainer Jana Freund, he scored 8.8 and was the undisputed winner of the class. Steffi Wittmann and Rijas placed second with an 8.4 score.
The 6-year old division was won by the Dutch rider Miranda Rongen on Deveraux (De Niro x Rohdiamant). The pair scored a fantastic 9.0 and beat Bernd Nothen on Daily Pleasure (by De Niro) who landed on second place with 8.4. Marion Schleypen and White Kiss finished third.
Photo copyrighted: Barbara Schnell
Results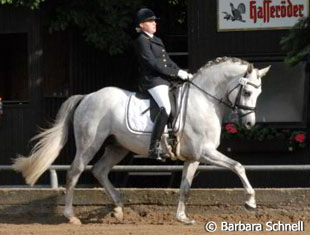 5-year old Dressage Horses
1. Jana Freund - Dramatic - 8,8
2. Steffi Wittmann - Rijas - 8,4
3. Mareike Mondrowski - Waiono - 8,2
4. Katja Camp - Mayong - 8.0
4. Jaime Amian Melgarejo - Royal Affair- 8,0
6-year old Dressage Horses
1. Miranda Rongen- Deveraux - 9,0
2. Bernd Nöthen - Daily Pleasure - 8,4
3. Marion Schleypen - White Kiss - 8,2
4. Angoli-Anne Jensen - Dundee M - 8,0
4. Arnd Erben - Fürst Felx - 8,0  
5-year old Dressage Ponies - Group 1
1. Viktoria Braun - Dein Freund - 7,8
2. Rebekka Rösler - Brantops Crispa - 6,2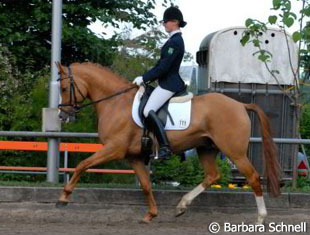 5-year old Dressage Ponies - Group 2
1. Lydia Camp - Don Juan MW - 7,6
2. Sinah Hartkopf - Der Harlekin B - 6,6
3. Justina Schneider - Golden Touch - 6,5
6-year old Dressage Ponies
1. Annabel Frenzen - Mac Duncan - 7,6
2. Isabelle Aretz - Destination W - 7,5
3. Anna-Rahel Gehrig - Jumanji - 7,2
Back to the 2007 Bundeschampionate Index