2007 Bundeschampionate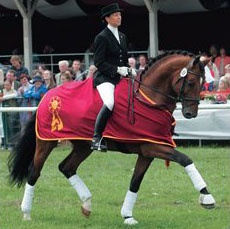 Alassio's Boy and FBW Don Johnson were the winners of the Bundeschampionate qualification classes held at the Ludwigsburg regional dressage show in Baden-Wurttemberg, Germany, May 18-20, 2007.
Four horses in the 5-year old division qualified for the finals in Warendorf by scoring 8.0 or higher. The winner of the class was Nicole Casper of Gestut Birkhof with the licensed stallion Alassio's Boy (by Alassio x Heraldik). They scored 8.4 and beat last year's Bundeschampionate winner Moses (.) under Susann Konrad. Moses totalled 8.1 points.
In the 6-year old Dressage Horse division, no horses qualified for the finals though the winner of the class was Renate Gohr-Bimmel on FBW Don Johnson. Owned by Wilfreid Holzäpfel, the winning horse is a Dr. Jackson x Alemao offspring and scored 7.8.
Photo courtesy: Birkhof
Results
5-year old Dressage Horses
1. Alassio's Boy - Casper,Nicole- 8.4
2. Moses - Konrad Dr.,Susann - 8.1
3. Lucky Lordi - Lieben-Seutter,Saskia - 8.0
3. Rainman - Raadt,Pieter van der - 8.0
5. Falkenauge - Helmling,Astrid - 7.4
5. Washington - Ischinger,Iris - 7.4
7. Laurenz - Konrad Dr.,Susann - 7.3
8. Royal Harry - Stengele,Sonja - 7.2
9. Ebony - Lempart,Stefanie - 7.1
9. Salut - Leuser,Ina - 7.1
9. Emily - Mayerhöfer,Kathrin - 7.1
12. Danzaro - Waldvogel,Martin - 7.0
12. Smaragd - Cantamessa, Francoise - 7.0
14. Depardieu - Stegmüller,Nina - 6.9
14. Magic Eye - Vogt,Alexandra - 6.9
16. Winston - Lukas,Sandra - 6.4
17. Ruby in Love - Zintl,Nicole - 6.3
18. Diamond Princess - Kühn,Christine - 6.1
6-year old Dressage Horses
1. FBW Don Johnson - Gohr-Bimmel,Renate - 7.8
2. David - Butz,Nathalie - 7.1
3. FBW Ladykracher - Heß-Müller,Karin - 6.9
4. Feliciano D - Rohrmuß,Heike - 6.8
5. Dorino - Melwitz,Dagmar - 6.6
6. Depardieu - Laier,Patricia - 6.4
7. FBW Dancing Diamond - Welk,Nicole- 6.2
Back to the 2007 Bundeschampionate Index