2007 Preis der Besten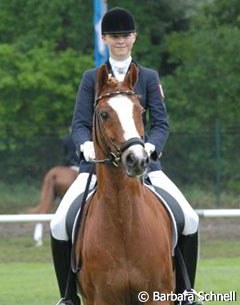 Sanneke Rothenberger and Konrad were the winners of the 2007 Preis der Besten pony division in Warendorf, Germany. Warendorf was flooded so badly the week before the PdB that they had to improvise. All dressage competitions ended up indoors
, and the ponies pretty much competed in the dark.
All ponies were measured at the 2007 Preis der Besten. Two ponies were found too tall -- one dressage pony and one jumper -- but their names weren't made public. (Eurodressage has a good guess which "horse" was competing in the pony dressage and we were even surprised that no more than one pony got thrown out for being too tall!)
The whole Junior division was an unbelievable collection of wonderful horses; I can't remember having ever seen a Junior year like this. The competition was immense fun to watch, and I'm already looking forward to seeing many of them again in Bonn. The Young riders division was won by Kristina Sprehe on Royal Flash.
Related Links
Scores 2007 Preis der Besten
Rothenbergers Dominate the South German Preis der Besten Qualifier
2007 Rhineland Selection Trial for 2007 Preis der Besten Qualifier
Photo Report 2006 Preis der Besten