2007 Bundeschampionate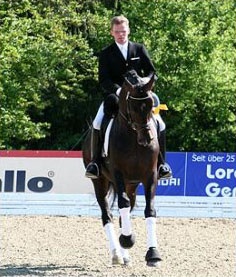 Sorento and Bohigas were the big winners of the first Westfalian Bundeschampionate Qualifier of the season. Hosted at the CDN Bad Salzuflen, the qualifier classes were entered by a large group of riders.
In the 5-year old Dressage Horse division, Heike Klausing and the Oldenburg licensed stallion Sorento (by Sandro Hit x Donnerhall x Pik Bube) were undefeatable. They scored a magical 9.0 in both the warm up test and the actual qualifier. Brigitte Wittig and Blind Date, a Hanoverian mare by Breitling x Donnerhall x Pik Bube, ranked second with 8.8. Helen Langehanenberg and the Hanoverian gelding Rubin al Asad (Rubin Royal x Wanderbusch II) finished third with 8.4. The mare is owned by Christian Heinrich and Wolfram Wittig.
In the 6-year old dressage horse division, Brigitte Wittig captured the first and second place on two own bred horses. She won the class with Bohigas (Breitling x Fabriano) on an 8.6 score and rode Brioni (Breitling x Deigo xx) to a second place with an 8.2 score.
Results
5-year old Dressage Horses - Warm Up Test
1. Heiko Klausing - Sorento - 9.00
2. Brigitte Wittig - Blind Date - 8.70
3. Ariane Dierkes - Perfect Touch - 8.40
4. Marion Wiebusch - Camfire - 8.10
5. Fritz Fleischmann - Fürstin Cardinale - 7.90
6. Sabrina Deerberg - Fidertanz - 7.80
7. Brigitte Wittig - Bertoli - 7.60
7. Marion Wiebusch - Frederik - 7.60
9. Katrin Bettenworth - Die Insel - 7.50
9. Marlies Brakemper - Flower Power - 7.50
11. Helen Langehanenberg - Rubin al Asad - 7.40
12. Ludger Knapmöller - Filmstar - 7.30
13. Inka Kemper - Dea vom Habichtshof - 7.10
14. Maike Hoffmann - Linkin Park - 7.00
15. Ludger Knapmöller - Del Cento - 6.50
15. Kira Wulferding - Duino- 6.50
17. Sebastian Berg - Sandro's Black Lady - 6.30
18. Andrea Cuypers-Friedrichs- Donnaknispel - 5.80
5-year old Dressage Horses - Qualifier for Bundeschampionate
1. Heiko Klausing - Sorento - 9.00
2. Brigitte Wittig - Blind Date- 8.80
3. Helen Langehanenberg - Rubin al Asad - 8.40
4. Fritz Fleischmann - Fürstin Cardinale - 8.20
5. Helen Langehanenberg - Fürst Khevenhüller- 7.70
6. Marion Wiebusch - Frederik - 7.60
7. Katrin Bettenworth - Die Insel- 7.50
7. Insa Hansen - Legolas - 7.50
9. Eva Möller - Ronja M - 7.40
9. Ludger Knapmöller - Filmstar - 7.40
11. Stefanie Kerner - Weitsicht - 7.30
12. Insa Hansen - Rossano R - 7.20
12. Sabrina Deerberg - Fidertanz - 7.20
12. Marlies Brakemper - Flower Power - 7.20
15. Brigitte Wittig - Bertoli - 7.00
15. Kira Wulferding - Duino - 7.00
17. Martin Stamkötter - Deveraux - 6.80
18. Katharina Heinemann - Rijas - 6.00
18. Sebastian Berg - Sandro's Black Lady - 6.00
6-year old Dressage Horses - Qualifier for Bundeschampionate
1. Brigitte Wittig - Bohigas - 8.60
2. Brigitte Wittig - Brioni - 8.20
3. Ariane Dierkes - Perfect Touch - 7.80
4. Martin Stamkötter - Dancing Dynamite - 7.70
5. Katrin Bettenworth - Denaro - 7.60
5. Stefanie Kerner - Fine Time - 7.60
7. Katrin Bettenworth - Dos OW - 7.00
8. Oliver Oelrich - Don Felice - 6.80
9. Marion Wiebusch - Camfire - 6.60
10. Maike Hoffmann - Linkin Park - 6.20
10. Heidi Egbert - Wyomi - 6.20
12. Inka Kemper - Dea vom Habichtshof - 5.90
Photo courtesy: Simone Nagel
Back to the 2007 Bundeschampionate Index