2007 Bundeschampionate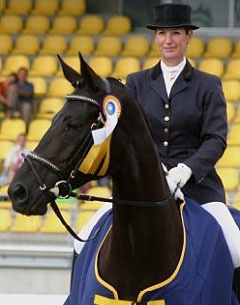 Donna Antonia and Daily Pleasure were the winning horses at the first Rhineland Bundeschampionate qualifier of the year, held in Duisburg, Germany, May 4-6, 2007.
Canadian Leonia Bramall won the 5-year old Dressage Horse class aboard her black mare Donna Antonia, a Hanoverian bred Don Frederico x Hohenstein x Weltmeyer descendant. The pair scored an impressive 8.7 and were the distinctive winners of the class. Geertje Hesse placed second aboard Chiara with 8.2.
Bernd Nothen and his Westfalian gelding Daily Pleasure took highest honours in the 6-year old Dressage Horse division. Nothen and his chestnut De Niro x Ehrenmarsch offspring scored 8.7 and won the class. His mount sold as a price highlight at the 27th NRW Elite Auction for 175,000 euro. Belgian Philippe Jorissen placed second on his Bavarian branded Amaro Abano (by Abanos). They scored 8.4.
Photo courtesy: Gestut Mühlenort
Results
5-year old Dressage Horses
1 Donna Antonia - Bramall,Leonie - 8.7
2 Chiara - Hesse,Geertje - 8.2
3 Kasimir - Camp,Katja - 8.1
4 First Step - Gesing,Christian - 8.0
5 Royal-Rubin - Herkenroth,Iris - 7.6
6 Mayong - Camp,Katja - 7.5
7 Maurice Chaval - Albers,Ilke - 7.4
8 Louisdora - Frenzen,Annabel - 7.3
9 Waioni - Mondrowski,Mareike - 7.2
10 Funkenspiel F.J. - Janßen,Sabrina - 7.1
11 Pricolino - Strucken,Ramona - 7.0
12 Royal Affair - Melgarejo Amian,Jaime - 6.8
13 Reno - Denda,Angela - 6.7
14 Jazz Rubin - Nabben,Tobias - 6.5
15 Daily Pleasure - Stroetmann,Petra - 6.4
16 Fidelia - Wingender,Catrin - 6.3
16 Balsamico - Zieglwalner,Eva - 6.3
18 Lord Kingsley - Knieps,Eva Julia - 6.2
19 Day Light SE - Spiegels,Waltraud - 6.0
6-year old Dressage Horses
1 Daily Pleasure - Nöthen,Bernd - 8.7
2 Amaro Abano - Jorissen,Philippe - 8.4
3 Delgado - Wingender,Knut - 8.3
4 Rotwelsch - Heinze,Sebastian - 8.2
5 Rimko - Engel,Alexa - 8.1
6 Deveraux - Rongen,Miranda - 7.7
7 Pretender - Jansen,Stephanie - 7.5
8 Royal sugar - Klemp,Clarissa Anna - 7.2
9 Fürst Felix - Erben,Arnd - 7.0
9 Everything is possible - Schulz,Sascha - 7.0
11 Dundee M- Jensen,Angoli-Anne - 6.8
12 Faradai - Ueffing,Christina - 6.6
13 Lukow - Buschle,Udo Stephan - 6.4
14 Ronny - Heinze,Sebastian - 5.9
15 Samira - Förster-Henrich,Bärbel - 5.7
16 Sky Thunder - Fehl,Juliane - 5.0