2007 World Cup Finals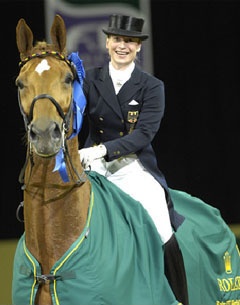 Isabell Werth and 11 year old Warum Nicht FRH just have won the 22nd World Cup Finals Dressage with the highest price money ever. Isabell Werth has not been gambling yet in Las Vegas, she smiled, but the amount of 132.855,11
(comparable to 81.000 Euro and 110.000 USD) now is a certainty yet!
Isabell Werth had a wonderful ride. During her Freestyle she started smiling and she kept on smiling until he last centreline ridden with one hand. "I didn't expect 'Hannes' to be so good today as he was! He was not spooky at all like in Grand Prix and I could take all risks, any second. This really was our day!", Isabell commented enthusiastically. She added that she really had learned a lot from the behaviour and specialities of Warum Nicht FRH, as she until now never had brought him to a championship yet.
The chairman of he judges Dieter Schüle characterized the test of Isabell Werth as outstanding. He marked the test with a 10 for the music, as also the interpretation and timing was an example. Nevertheless her points of 84,25% are not a record, as Anky van Grunsven and Keltec Salinero were marked with 87,75% last year at the winning test in the WC™ Final in Amsterdam and with 87,93% at a qualifier in 's-Hertogenbosch 2006.
Runner up in Las Vegas was Dutch Imke Schellekens-Bartels. She had a challenging ride as her mare Sunrise was in season and it was not easy to cope with that. "Although the losing in the loosing arena was rather difficult, she was as much with me as possible in the test. This could not have been better this moment", remarked Imke Schellekens-Bartels. The well known virtuoso and composer of her Freestyle Wibi Soerjadi witnessed the reception of 'his' Freestyle in the Thomas and Mack Centre personally and was very happy with the runner up position.
The best American pair Steffen Peters and Floriano finished third. Steffen Peters, member of the brons medall winning team of the WEG in Aachen, was very happy with his third position and the fitness and healthiness of his 17 year old partner. "As long as he feels this coöperative with me, I will continue to bring him in the big sport. But let's take one day in a day and enjoy the moment", he commented.
Unfortunately this World Cup™ Final suffered from some withdrawals. After the Danish bronze winning medal horse Blue Hors Matiné had to be withdrawn due to an injury, today also the Swedish horse Solos Carex was not present as he suffered from fever.
Nevertheless the enthusiasm of the Las Vegas-audience raised to the ultimate from the very beginning of the Final.
One of the favourites of the Las Vegas Final from two years ago, Dutch Edward Gal partnered to Lingh that time, now was not able to please the audience and the judges as his stallion Gribaldi lacked cooperation. The pair finished 11th.
Stallion Idocus partnered with American Courtney King and owned by Christine McCartney was the first with 73,20% to reach over 70%. Idocus also competed in the World Cup™ Finals in 2003 and 2004 partnered with Dutch Marlies van Baalen.
The location of next year's World Cup™ Final and on the Qualifiers will be decided within some weeks. Please find updated information on the website of the FEI www.horsesport.org
FEI Press release
Photo courtesy: Kit Houghton for the FEI
Back to the 2007 World Cup Index