2007 World Cup Finals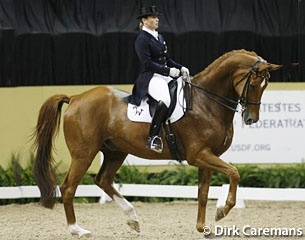 In front of an enthusiastic sold-out crowd at the 2007 World Cup Finals, Isabell Werth of Germany was crowned the 2007 World Cup Dressage Champion, riding Warum Nicht FRH to a decisive victory at the Thomas & Mack center in Las Vegas.
The crowd of 11,925 was on its feet clapping to the music as Werth and "Hannes" took their victory bow, with Werth staying in the arena longer than usual to soak up every emotional minute. "It had to be one of the most passionate crowds in the history of the World Cup. I had such a great feeling," said Werth, winner of four Gold and two Silver Olympic medals. "Today was so easy. I didn't expect him to be so relaxed and cool. It's such a fantastic crowd and such a great atmosphere. He was really super today."
Werth, who also won the World Cup title in 1992, received a dazzling score of 84.250%. Placed first by all five judges, she was awarded two artistic scores over 90.000%, and a perfect 10 for music and interpretation, the only one in the competition to receive such marks.
Imke Schellekens-Bartels of The Netherlands scored 77.950 riding Sunrise to finish second, slightly ahead of the 1996 Olympic Team Bronze medalist, Steffen Peters of the United States who was third on Floriano with 77.800.
"I am extremely excited for this horse who at age 17 still puts so much effort into it," said Peters. "He was a little bit tired at the end but overall I am very happy with his performance. This was a great night for us and for dressage. That crowd was absolutely amazing."
A total of 28 riders will participate in the Sunday's concluding event, the Rolex FEI World Cup Show Jumping Final. Points calculated from the combined results of the competitions held on Thursday and Friday have been used to set the starting lineup for Sunday's final which determines this year's Rolex FEI World Cup Show Jumping Champion.