2007 World Cup Finals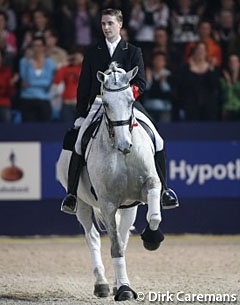 The Danish WEG silver medallists, Andreas Helgstrand and Blue Hors Matine, will not be competing at the 2007 World Cup Finals in Vegas, which start tomorrow. The grey Danish warmblood mare did not pass the first vet check and was withdrawn before the reinspection.
The grey mare twisted her left front pastern coming off the horsebox upon arriving in Las Vegas. Initially there was no lameness in her movements, but she gradually became sore and was uneven at the jog. The veterinarian inspected the mare at the show grounds and the ultrasound showed some fluid round the left front pastern.
"I just took her out and ran with her. Going to one side, she was 100% sound but coming back she wasn't. She's not ready to perform. It is tough because she can be totally fine tomorrow but I have to decide now because the draw is tonight," said Helgstrand at a press conference announcing his withdrawal. "This is really a bummer. We travelled this long way and really had good chances to finish at the top. But we're dealing with horses here. I don't want to risk her welfare by competing tomorrow. The European Championships and the Olympic Games are coming up next."
Andreas commented to Eurodressage that the mare is vey good traveller. "She just slipped coming off the box. I roode her the nex two days and she felt very good, he said. "But then, we saw yesterday that her left front pastern still had some fluid. The ultrasound showed this clearly. We decided that her welfare has to come first, of course. She probably will be 100% by tomorrow, but the decision has to be made today--now." 
Team trainer Rudolf Zeilinger supports Andreas' decision a 100%. "He made the right choice. The horse was better day after day but the risk to compete is too great. We still have a long and important season ahead of us. We have the European Championships where we hope to qualify the Danish team for the Olympic Games," Zeilinger commented.
Andreas' family is flying in tonight and will be joining Andreas in the stands as spectators. At least his close ones will be with him through this minor and temporary, but very unfortunate turn of events.
Photo © Dirk Caremans
Back to the 2007 World Cup Index