2007 World Cup Finals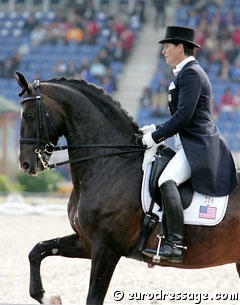 American WEG team members Leslie Morse and Tip Top continue their tour showing at the highest profile competitions in the world by adding the 2007 World Cup Finals in Las Vegas April 19-22, 2007 as next show stop on their schedule.
Thanks to their third place at the U.S. League Finals in Burbank, California, three weeks ago, Morse and her 12-year old licensed Swedish warmblood stallion Tip Top (by Master) will be one of four American combinations competing at the World Cup Finals on home turf.
At the 2007 World Cup Finals Morse aims to ride a clean Grand Prix test which will take her to the Kur to Music finals. Like any Las Vegas participant, she hopes to perform her freestyle which she had revamped for Las Vegas. Morse's soundtrack is a medley of danceable swing music expressing her horse's elasticity and lightness. The choreography has a high level of technical difficulty, for instance, by executing tempi changes on the circle lines.
"We changed the music a little to adapt to the indoor arena. This freestyle highlights Tip Top's very natural dynamic way he uses his body, where the movements flow together as if the two of us were dancing," Morse said.
In preparation of the World Cup Finals, Morse worked on keeping Tip Top happy and fit in his training routine. "Our focus is to become very comfortable and relaxed from the start of our test. I want to enter the arena and have Tip Top feeling like he does every day at home. This is the best way to perform at our peak level," Morse explained. "My goal is for Tip Top to perform in the arena with confidence, grace and relaxation," she added.
The 45-year old Leslie Morse started riding dressage when she was 9 years old and became a Grand Prix rider when she was 40. Tip Top is her second Grand Prix horse, besides her Oldenburg licensed stallion Kingston (by Voltaire). In Las Vegas, Morse will be riding her fourth World Cup Finals. In 2006 she was a member of the U.S. team competing at the World Equestrian Games in Aachen, Germany. "The past five years have been a whirlwind of experiences," she admits.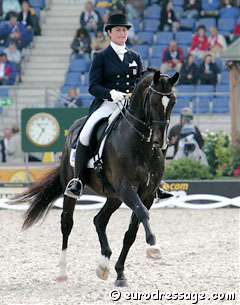 Representing the United States at the 2006 World Equestrian Games was a dream come true to Leslie. Years of hard training had resulted into winning the team bronze medal together with her team mates. After WEG, it took Leslie two months to get her horses back home due to strict quarantine procedures. Upon his arrival home in California, Tip Top got a well deserved break "In 2006 there was such an excessive amount of travel. I felt Tip Top would enjoy some light work, along with hacking, some time to let down and just be a horse," she said.
When Morse picked up her training routine again with Tip Top, she focused mainly on the basics. "We hadn't been home for the last nine months and I thought now was the time to concentrate on the real basics that sometimes get clouded during showing and traveling. Suppleness, straightness, regenerating his energy back through his body and build strength and power from this."
Over the years, Tip Top has developed from being the triple Swedish Young Dressage Horse Champion, into a Grand Prix level medal winning horse. Leslie has always seen greatness in her dark bay stallion and believes this shows in his achievements.
"From his beginning he proved he had the talent and with careful nurturing and training he has blossomed. I had such positive reaction from so many people about Tip Top's talent and by the way he filled up the ring, he showed how special he is. Pre-WEG, and the WEG themselves have given Tip Top a great deal more confidence, he is braver and bolder, he is more settled and coming into his own so much that the Grand Prix feels easier," Leslie explained.
Morse and Tip Top hope to show this grand development to the judges and audience at the 2007 World Cup Finals at the Thomas & Mack Center in Las Vegas next weekend!
Related Links 
Leslie Morse's official website: www.lesliemorsedressage.com
Leslie Morse, Raising the Bar For 2005
Leslie Morse and Kingston, Grand at Hagen