2007 World Cup Finals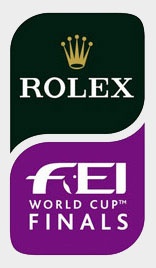 On Saturday morning, the European horses qualified for the 2007 World Cup Finals boarded a cargo airpline at Schiphol airport in Amsterdam (NED) to be flown to Las Vegas on a direct flight. The horses has to be at the airport at 4 AM, but the plane didn't leave until 11 'o clock.
The long strenuous flight to the U.S. was for several riders a reason for not participating in the Finals, as they wanted to spare their horses for the 2007 European Championships .
The horses that did go a arrived safe and sound in Las Vegas, after more than one full day of travelling. The riders, however, got very upset when the plane made a 3-hour stop over in Miami on route without having informed anyone about it.
The veterinary inspection is on Tuesday April 17, 2007 and then the official training sessions commence at the Thomas & Mack center which hosts the Finals in Vegas. The Grand Prix is on Thursday April 19 and the Kur to Music Finals on Saturday April 21, 2007.
Photo courtesy: Nicole Werner
Back to the 2007 World Cup Index