2007 U.S. League World Cup Finals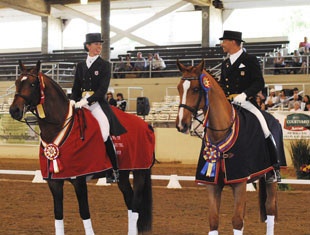 Steffen Peters, of San Diego, CA, was the odds-on favorite going into Sunday's freestyle class, and he did not disappoint. Riding Laurelyn Browning's Floriano, Peters put in a beautiful and flowing freestyle ride.
The pair bested second-place Courtney King by close to three percentage points to win the Freestyle Championships and U.S. League Finals. Reacting to his victory, and his spot on the U.S. team that will compete this month at the 2007 World Cup Dressage Finals in Las Vegas, Peters responded, "It is very, very special. It is an honor to represent the United States."
The 17-year-old gelding looked strong throughout the test, though Peters admitted to riding a bit on the careful side. "This was not a day to take too many risks," he said. Peters continued to say that he hopes to pull out a few mores eights in Las Vegas taking those risks in the extensions and piaffes. He laughed about the mistakes in his two tempis, and said that up until the day's competition, he and Floriano had completed six mistake-free tests in a row. "It just goes to show we are human, and they are horses."
"Shell shocked," was the phrase Courtney King, of Sherman, CT, used to describe the excitement of her second-place finish. Much of her freestyle, set to music from The Wizard of Oz, was perhaps a premonition of dreams-come-true. "Our goal was just to make it to the League Finals," she said. Now the horse-and-rider pair will be going on to the World Cup.
King's mount, Idocus, owned by Christine McCarthy, is also 17 years old. Responding to the age questions, King said she will never push Idocus a day beyond the time when he is happy and into his work. "Every day [with an older horse] is emotional, and every show is a blessing. I am really thrilled."
Adding to the day's emotion is the fact that King clinics and trains with Peters whenever possible. When asked about having student and teacher in the same competition, Peters commented that it is just as rewarding to have a student garner a great score as to earn one with your own riding. He was also quick to add, "Courtney is a hell of a rider. She deserves all the credit."
Third-place finisher, Leslie Morse of Beverly Hills, CA, took huge risks with a very high degree of difficulty in her freestyle. Riding her Swedish stallion, Tip Top 962, Morse had noticeable troubles in many spots, but it was an exciting ride to very jazzy music, as described by Ground Jury President Cara Whitham of Canada. "...An absolute pleasure," said Whitham, who addressed Morse at the press conference by saying, "Hat's off to you." This will be the fourth World Cup for Morse, who has represented the U.S. twice on Kingston and now for a second consecutive time on Tip Top 962.
Whitham continued to say that the judges were very happy with the improvement in all the rides compared to Saturday. U.S. Chef d'Equipe Klaus Balkenhol was in complete agreement. "Our riders' performances were much improved. Only good performances get good scores." He explained it is the job of every rider to give judges a chance to give good scores. He went on to say he is not at all concerned with two of the horses being 17 years old, noting that many Olympic winners have been 16 or 17. "These are experienced horses and riders," he said. He feels that with the preparation and training the next few weeks will bring, U.S. riders will be confident when they show up in Las Vegas.
Of the three remaining competitors, Florida's Arlene (Tuny) Page took the fourth-place spot with some inconsistencies. Her mount, Wild One, was the youngest at age 11 and looks to have a bright future. New Jersey's Michael Barisone chose to debut a completely new freestyle aboard Jane Suwalsky's Neruda. There was no shortness of excitement, but there is work to be done on transitions. Small bobbles seemed to plague their test. This was most likely the final competition for Jennifer Smith's mount named Parocco ridden by Jeremy Steinberg. Steinberg rode a steady test, but said the also 17-year-old gelding may retire when returned home to Washington.
Peter's repeated his comment from yesterday that it was not quite the same without friend and fellow competitor, Guenter Seidel, who had to withdraw after his horse, Aragon (owned by Dick and Jane Brown), came up lame in the warm-up following a jog earlier in the week. Donna Richardson was also forced to withdraw today when her Jazzman developed a temperature.
Peters, King and Morse will spend the next few weeks working with Balkenhol in California in preparation for the 2007 World Cup Dressage Finals. They will ship together to Las Vegas on April 16. They will be joined there by Catherine Haddad who was granted a fourth spot on the U.S. team by the International Equestrian Federation (FEI) based on scores earned in Europe. She and her horse will travel from Europe on the charter flight with the other European competitors.
Four American riders at the World Cup held in America – we've come a long way .Leslie Morse summed it up when she said, "This is kind of fun!"
Placings:
1. FLORIANO – Steffen Peters (California) 78.700. 17-year-old Westphalian gelding owned by Laurelyn Browning
2. IDOCUS – Courtney King (Connecticut) 75.500. 17-year-old Dutch stallion owned by Christine McCarthy
3. TIP TOP 962 – Leslie Morse (California) 73.000. 13-year-old Swedish stallion owned by Morse
4. WILD ONE – Arlene (Tuny) Page (Florida) 71.051. 11-year-old, Hanoverian gelding owned by Page
5. NERUDA – Michael Barisone (New Jersey) 70.750. 12-year-old Dutch gelding owned by Jane Suwalsky
6. PAROCCO – Jeremy Steinberg (Washington) 67.800. 17-year-old Wurtenberg gelding owned by Jennifer Smith  
Text by Regina Antonioli for USEF.org
Photos copyrighted: Lynndee Kemmet for Horsesdaily.com
Visit Horsesdaily and Dressagedaily.com for extensive coverage of the 2007 U.S. League Finals in Burbank
Back to the 2007 World Cup Index