2007 New Zealand Dressage Championships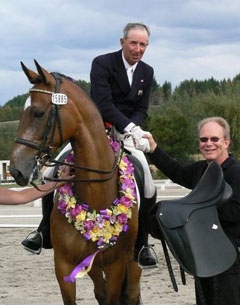 Bill Noble and his horse Vincent St James cantered off with the premier title for dressage at the Bates New Zealand Dressage Championships at Taupo, New Zealand, March 3, 2007.
Bill Noble, who moved from England with his NZ-born wife, has waited a long time to claim the coveted Burkner Medal for the leading Grand Prix horse at the Bates New Zealand Dressage Championships. With the popularity of imported European warmbloods and their progeny, Noble bought the 14-year-old Thoroughbred-stationbred cross, convinced that New Zealand horses could match them. He has had to have great patience as he trained "Vinny", but the rewards have started to come with the Horse of the Year title last year and now, after a layoff – they hadn't competed since a trip to Sydney last May – the satisfaction of winning the Grand Prix title.
With the defending champion, Jody Hartstone's imported German stallion Landioso off form and not competing yesterday, Noble came out in the final championship class, the musical freestyle and put on a performance that would have been hard to beat, scoring 67.80%, well ahead of the rest of the field several of whom were in the 61% bracket.
The leading young horse of the show, beating off stiff competition, was the Northland-bred six-year-old Dream World MH, owned by breeder Judith Matthews (Awanui) and ridden by 21 year-old Casey Johnson. The mare, by the imported German Hanoverian Dream Boy from an imported mare, Wel Kantje, not only stood out from the four and five-year-old entrants but proved her ability with a third overall place in the Elementary championship.
Report by Joan Gilchrist
Related Links 
Hattrick for Noble at 2007 New Zealand Horse of the Year Show 
Vincent St James and Monique III, NZ Horses of the Year