2007 Preis der Besten Qualifier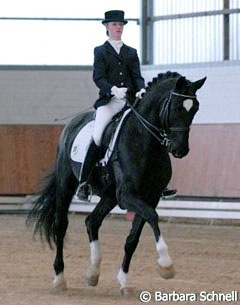 Eurodressage's German liaison Barbara Schnell could not curb her curiosity and decided to drive to the selection trial for the Rhinelander Preis der Besten Qualifier, which is coming up in Langefeld, Germany.
Barbara wrote the following comment: "Being more curious than is good for me, I went to see the Rhinish pre-selection for the Preis der Besten qualifier, and caught some of "my" pony girls at their premiere with a top hat and two pairs of reins."
Jill de Ridder and FBW Disco Boy won the test at the selection trial. She is no new junior rider as she already competed Aaron last year, but here she presented a new ride, the gorgeuos Disco Boy whom her mother, Alexandra Simons-De Ridder, has just started showing at GP level.
Louisa Lüttgen came in second aboard her sister's 2006 Burgpokal finalist Habitus. Her priority will still be the pony tour aboard Dornik B this year, but she also wants to begin testing the atmosphere amongst the Junior riders, and did this so convincingly that has been invited to the Preis der Besten qualifier with both Habitus and Riverdance.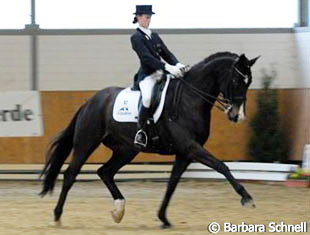 Thea Felicitas Müller was a Junior last year as well -- until her horse Highway became the victim of an incurable eye infection and unusually well with this, they decided to keep him around. Today was Thea's second competition aboard the blind horse, and while it wasn't flawless, it was an impressive demonstration of trust between horse and rider. 
Photos © Barbara Schnell
Related Links 
Photo Report - 2007 Rhineland Pony Talent Search 
Photo Report - 2006 German Youth Riders Championships 
Photo Report - 2006 Rhineland Preis der Besten Qualifier