German Dressage News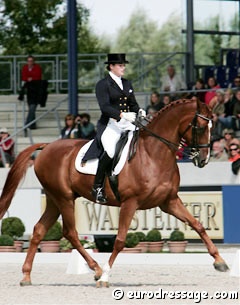 Ellen Schulten-Baumer's number one Grand Prix horse Lesotho has died unexpectedly following a severe illness that affected his nervous system. The 14-year old Hanoverian gelding suddenly started to suffered from illness on the central nervous system
two weeks ago which quickly led to his untimely death within 14 days.
The passing away of Lesotho is a major blow for his 27-year old rider Ellen Schulten-Baumer, who has been the youngest rider on the German A-team since 2005. "This really struck me hard," Schulten-Baumer told Pferd + Sport. "I had Lesotho since he was a 4-year old."
The chestnut Lauries Crusador xx x World Cup I offspring was trained and competed by Ellen under the supervision of her stepfather Dr. Uwe Schulten-Baumer senior. Ellen showed him in the Piaff Forderpreis, which they won two years in a row in 2001 and 2002. In 2006, the combination finished fourth at the German Dressage Championships.
Due to the sudden death of Lesotho, Schulten-Baumer has withdrawn from competing her mare Donatha S in the 2007 World Cup Finals. She will be focusing the Donnerhall mare on the outdoor season taking a berth at the 2007 European Dressage Championships as goal for the season.
Source: Pferd + Sport
Photo copyrighted: Astrid Appels / Eurodressage
Related Links
Ellen Schulten-Baumer Wins First Piaff Forderpreis Ever 
German Dressage Team for the 2005 European Championships
Lauries Crusador xx, Hanoverian Stallion of the Year 2006
2002 Otto Lorke Prize for Heike Kemmer and Ellen Schulten Baumer