2007 CDI-W Neumunster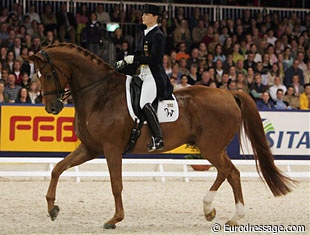 "This was my best Freestyle ever partnering 'Hannes'!", Isabell Werth most happily commented after her winning performance at the sold out stadium of the VR Classics in Neumunster. Great enthusiasm evolved from the crowd during the FEI World Cup™ Qualifier in Neumünster
, in fact not only for German participants, but for all riders.
The grey Balagur partnered by Russian Alexandra Korelova already brought its rider trained by Georges Theodorescu to the Olympic Games in Athens. The chairman of the judges Mariette Withages said she had never seen him perform so well. She rewarded him both in Grand Prix and today in the Freestyle with the ultimate mark of 10 for its piaffe! The horse is an example for its obedience, easiness and friendly expression.
The enthusiasm for the former police horse Balagur almost exploded just when the chestnut Warum Nicht alias Hannes came in mounted by home rider and World champion Isabell Werth. She said, "I had some trouble to get Hannes concentrated again as he almost immediately left the arena again because of the excitement. But as we have worked hard on further physical developments, when we started and continued the test Hannes gave a most wonderful feeling. This no doubt has been my best Freestyle ever partnering Hannes and it has been rewarded with a record score for the two of us, which makes me too happy!"
The test was without any mistake. Highlights were the piaffe and passage and the fitting variety between the half passes in passage and in collected trot. "We have been thinking of changing the music, but as this fits so well, we'll concentrate on new music for Satchmo, which is a hard job anyway", Isabell smiled.
A pleasure for the eye also was stallion Blue Hors Don Schufro partnered by bronze medallist of the WEG in Aachen 2006 Danish Andreas Helgstrand. His stallion is an example for the looseness combined with power in the movements. Some minor mistakes prevented a higher score and the pair was rewarded with the runner up position.
Neumünster might have attracted the strongest field of participants until now in the Western European League, but not all competitors kept out of the zone of mistakes. Max of Finnish Kyra Kyrklund didn't perform the piaffe and the half passes to its advantage today. Douglas Dorsey of British Laura Bechtolsheimer had most wonderful pirouettes but had some mistakes in the flying changes. Wansuela Suerte, partnered again with Hubertus Schmidt, did a correct test but lacked some natural looseness and power now some other horses have. Former world champion show jumping BMC Kigali partnered with Marlies van Baalen in international dressage needs more experience to grow but showed the looseness dressage should have.
Winner of Neumünster Isabell Werth partnering her chestnut Warum Nicht FRH already won the World Cup™ Qualifier in Maastricht and was the runner up at London-Olympia. She moved forward to second placement now in the standings.
Following eight World Cup™ Qualifiers, only two more qualifiers are left in Western Europe to qualify for the World Cup™ Final in Las Vegas in April. The next World Cup™ Qualifier will be Göteborg (SWE) following next week. The FEI World Cup™ Freestyle will be Friday February 23rd .
Photo copyrighted: Astrid Appels / Eurodressage
Back to the 2007 World Cup Index