FEI Dressage News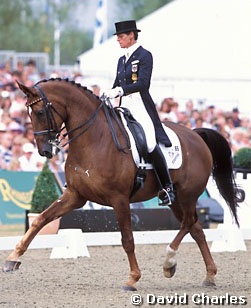 The Federation Equestre Internationale (FEI), the governing body of equestrian sport, has announced that Windsor has been selected to host the European Jumping and Dressage Championships in the Royal Windsor Horse Show grounds in 2009.
This is the first senior combined continental championships ever to be held and will bring together two of the three equestrian Olympic disciplines, three years before London 2012. It is expected that Europe's top names will appear in both disciplines and the event will be a major celebration of horsesport.
This means that two major equestrian events will take place in the private grounds of Windsor Castle in 2009. The Royal Windsor Horse Show will occupy its normal dates in May and the European Jumping and Dressage Championships will be scheduled for late summer.
Already major backing has been found for the event, with a commitment by UK Sport to provide the Championships with substantial financial support. It forms part of UK Sport's strategy as the lead partner in co-ordinating the UK?s efforts to bid for and stage world class sporting events on home soil.
John Scott, UK Sport's International Director, said: "We are delighted that this country was selected and that we are able to support this event with up to £948,000 from our National Lottery funded World Class Events Programme. We have a fantastic opportunity to once again demonstrate to a large international sporting community that Britain is the place for top equestrian sport and that we are committed to developing horsesport?s stars of tomorrow."
The Hpower Group, which organises Royal Windsor and Olympia, The London International Horse Show, will run the Championships. Simon Brooks-Ward, managing director, said:" This is a massive boost for equestrian sport in the UK. For Windsor it also provides an injection of world class horsesport that we intend to be a feature of Royal Windsor Horse Show for many years to come."
The Championships have the full support of the British Equestrian Federation (BEF), who initiated the plan for both Jumping and Dressage to combine together in one venue.
Hugh Thomas, BEF president, said:" We are thrilled that both disciplines will be such a showcase in the unique sporting setting of Windsor Castle. Now starts the long and hard road to make this the best Championships this country has ever seen. I am confident that with UK Sport behind us, HPower organising the event and the BEF, with the British Show Jumping Association (BSJA) and British Dressage (BD), providing huge support, we will provide the platform for medal winning opportunities."
The other bid city was Copenhagen.
Photo copyrighted: David Charles
Related Link
2003 European Dressage Championships in Hickstead