2007 New Zealand Trans Tasman Derby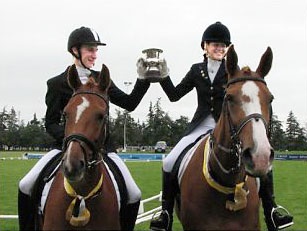 Australian Young Riders Jayden Brown (Qld.) and Lilah Nieuwland (Vic.) have won the Yorke Corporation Trans Tasman Derby at the Lion Foundation New Zealand Young Rider Championships in Ashburton (NZL) on 21 January 2007.
Jayden Brown of Queensland top scored on Gael Koeford's Ill Divo with a final score of 70.400 %. Lilah Nieuwland of Victoria made up the team with a score of 60.267% on Kushla Cain's Elish. This year the derby was a one round event making the draw of horses even more crucial to the final result; nevertheless Jayden and Lilah rode accurate and confident tests. Lilah ( the smallest rider) rode one of the largest horses in the field while Jayden ( the tallest rider) drew the smallest horse. What Ill Divo lacked in height he made up for in movement and education giving Jayden a great opportunity to show his talent.
The New Zealand team of Rebecca Goldsbury and Hannah Appleton provided some tough competition but Jayden's terriffic score made Australia hard to beat.
Lilah and Jayden were also loaned horses for other classes over the weekend. Nicola Carroll loaned Abbey Dale to Lilah for Novice tests. Lilah and Abbey won the Novice freestyle with the music and choreography designed by Larissa and Germaine Siroy. Larissa loaned Jayden her eventer 42 Below (otherwise known as Oscar) for Preliminary tests where they gained a consistent 60% average.
The Australian team would like to thank the loan horse owners, the organising committee, Ashburton Dressage Group, and the New Zealand Equestrian Federation for their generosity and hospitalilty. Thanks also to Tarnia Siroy and family for providing their facilities for the Australian team. It is often difficult for people to loan horses for these events but they provide an essential opportunity for young riders to develop their competition skills and gain some international experience.
Australia looks forward to returning the hospitality when New Zealand riders compete at the National Young Rider dressage Championships at Werribee in April.
Final score:
Ill Divo Jayden Brown AUS 70.400% 
Baltimore Rain Rebecca Goldsbury NZL 63.733% 
Aspen Gold Hannah Appleton NZL 60.667% 
Elish Lilah Nieuwland AUS 60.267%  
Photograph:Jenny Carroll
Related Link
Hannah Appleton wins 2007 New Zealand Young Rider Championship