What's Happening in the Dressage World?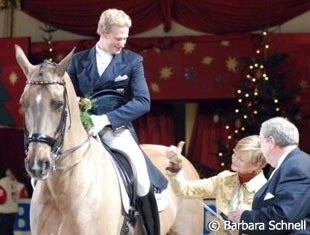 Matthias Alexander Rath, stepson of Ann Kathrin Linsenhoff, has received his Goldenes Reitabzeichen. He was awarded the medal at the show in Frankfurt in December. Every rider in Germany who has won an S-level class ten times gets the medal. Rath booked his first S-victory in Frankfurt in 2002 aboard Linsenhoff's horse Redliner. He's now campaigning her Rubinstein offspring Renoir Unicef.
The KWPN licensed stallion Son de Niro (De Niro x Balzflug x Vincent) has been partly sold to dressage rider Roelof Brink. The stallion was originally owned by stallion station Van Olst and the Pleijter society from Zalk, The Netherlands. Brink purchased Van Olst's part in the ownership of the horse and will be competing the bay stallion in The Netherlands.
Dominique Filion's small tour horse Rifradin has been sold to the American based Leatherdale Farms for their trainer Helena Espinosa. The 9-year old Dutch bred Gribaldi x Formateur mare was owned by Rene Franssen. Dressage stable Van Baalen purchased the Dutch warmblood mare Phoebe (Regazzoni x Ulft). Owned by the breeder Ciska da Silva, Phoebe was trained up to Intermediaire II level and competed by Annemieke Vincourt-Krom. Marlies van Baalen will be the new rider of the mare.
British WEG Team rider Wayne Channon has moved barns in Belgium. He left Stal Oosterhof in Herenthout to move to Arjen Teeuwissen's stable in Vlimmeren, Belgium,. Teeuwissen's farm is a professional training yard with all facilities and is located closer to Channon's home in Oud-Turnhout. Channon admitted that the move has made his life easier, as he no longer has to be stuck in traffic so often and can zip to the stable in only 20 minutes. By the way, we heard that he needed to replace the four Pirelli tyres on his Porsche after only one year of driving! Keep up the emergency breaks!
Another driving record was broken by team mate Nicola McGivern. She managed to drive from Hubertus Schmidt's stable in Paderborn, Germany, to her farm in Buckingshamshire, Great Britain in no less than 6 hours and a half!
Now that we are talking about cars, have you seen Sven Rothenberger's new wheels? He's driving a fantastic Mercedes sports car, the AMG version. Ai Carramba!
KWPN keur stallion Jazz (by Cocktail) has been proclaimed "preferent" sire and is now licensed for life by the KWPN breeding society. Based on his own performances and those of his offspring, Jazz has proven to be a foundation sire for Dutch warmblood breeding.
Dieter Ludwig reported that the 64-year oldDr Peter Cronau, one of the most famous equine veterinarians, had a close call in the line of duty. While inspecting a horse's leg, the horse kicked out and hit Cronau's head and shoulder. He was transported to the emergency room by ambulance where they found out that he had no fractures whatsoever and only severe bruises. Cronau, who is a former German Olympic team veterinarian, runs an equine clinic in Wattenscheid, Germany, and his son Marc will be succeeding him as director and head veterinarian soon.
The State Stud of Marbach also got a new director. Astrid von Velsen-Zerweckwill be the new manager of the Baden Wurttemberger based state stud. Astrid is the daughter of former Trakehner Breeding Manager Eberhard von Velsen-Zerweck and has been the driving force behind the media management of the German Trakehner Society and the German Therapeutic Riding Kuratorium. As of March 1, 2007, Astrid will be managing the state stud and she is succeeding Dr. Helmut Gebhardt, who is retiring due to old age.
The Oldenburg society proclaimed Victoria Max-Theurer's Salieri "Oldenburg Sport Horse of the Month January 2007". The 9-year old Sandro Hit x Dakota II bred gelding is the first Sandro Hit offspring to compete at Grand Prix level internationally. He scored 69.08% at the CDI Stuttgart and made his Grand Prix debut in October 2006 at the national show in Weikersdorf.
Joachim Thomsen booked his first big success aboard his new ride Zardin Firfod. At the show in Barthahus, the pair won the Prix St Georges with 72%. Aboard Angrib Firfod, the horse with whom Thomsen won the Danish Young Horse Championships, he won the MB class with 73%. Great way to kick off the New Year!
Karen Mathers and her 19-year-old Off The Latch have won the affiliated dressage section of the 2006 South Essex Insurance Brokers Racehorses To Riding Horses Awards, which was presented at the 2007 British Breeders' Awards dinner at The Grange City Hotel, London, 13 January. The competition was instigated by equestrian insurers South Essex Insurance Brokers to encourage the re-education of former racehorses. Off The Latch, known as "Jake", was retired from racing after running in a couple of bumpers. After nearly a decade of doing "a little bit of everything", Karen bought him 10 years ago. They evented up to 2-star level and nearly reached grade B show jumping until an old stifle injury meant he had to retire from jumping. Since then, Karen and Jake have amassed 200 British Dressage points, having won eight medium-level competitions in 2006 and qualified for the Winter Regional Championships.
The 28-year old Willem-Jan Piggen is the new in-house rider of Tineke Bartels' Horse Academy. Piggen will be training and competing the youngsters. Piggen was member of the Rabobank Talent Team in both dressage and show jumping. He has worked for Willem Jan Schotte, Stable Bollvorm, Gert Jan van Olst and De Havikerwaard. Piggen is now full-time employed at the Academy.