2006 CDI-W Mechelen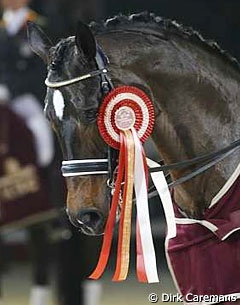 Christmas is the time for Imke Schellekens-Bartels. Prayers for peace on earth seem to bring her victories in dressage. After her wonderful first ever win of a FEI World Cup™ qualifier recently in London, Dutch national champion Imke Schellekens-Bartels
proved her winning mood again and grew to the occasion to win her second special Christmas atmosphere World Cup™ qualifier in Mechelen, Belgium.
"It is never evident and easily done, even not when having won the Grand Prix already", a happy Imke Schellekens commented on her win. Yesterday in Grand Prix the Hanoverian mare Sunrise felt somewhat tired when entering the full house arena with cosy temperatures above 24 degrees.
Both Imke and Edward Gal therefore reduced their warm-up time and entered the arena with a fresher horse. Imke Schellekens praised light footed and elegant Sunrise. "Today she felt wonderful, although the tiny mistake in the one tempi changes left room for improvement. The mare is so sensible and easy to ride, she gives me a most comfortable and reliable feeling. Now the time has come to make our choreography more difficult and to find more challenges in decreased difficulties."
Country fellow Edward Gal and the black stallion G4S IPS Gribaldi became the runner up today. He did a harmonious test, but had some comments on his own timing: "Sometimes I was in front, sometimes I was behind the music. As I on purpose diminished the time for warming up, Gribaldi might have been too forward moving and less collected at the beginning. However our performances are far above my expectations after the sell of Lingh so I'm happy too", Edward Gal said.
The third happy rider was American German-based Catherine Haddad who became third showing her horse Maximus on the chosen dramatic film music that leads to the dead of Roman emperor Maximus. Catherine Haddad commented; "Both yesterday and today I had technically very clean tests, which makes me feel very proud. Maximus really wants to do it for me and it is this music which brings the warrior out of him. Today he was not only better to ride, but also easier. He brought his energy more on my fingertips!" Catherine Haddad now will take some time to completely rewrite the choreography of her Freestyle to set up more difficulties.
Best home rider Jeroen Devroe and Dutch Laurens van Lieren shared some disappointment about their fourth positions. For Devroe, the mistakes in the two tempi changes and he one tempi changes reduced his points, just like the missed final halt. "With Paganini in the good shape of today, it would have been possible to really reach for higher points now. My challenge is to find a way to combine this shape with a test without mistakes. I keep on thinking about that", Jeroen Devroe commented.
The chairman of the judges Mariette Withages suffers from fractures of three ribs when falling of the steps of the aircraft during the previous World Cup™ in Frankfurt. This did not prevent her to judge for the enthusiastic crowd in Mechelen. "I think there is no other World Cup™ qualifier in such a great ambiance with such a great audience. For me it is difficult to understand why no German rider takes advantage of such a great show", Mariette Withages commented. On winner Imke Schellekens-Bartels who now leads the standings, she concluded: "For me the harmony of the pair was a pleasure to the eye. And harmony that's what dressage is all about."
Back to the 2007 World Cup Index