2006 CDI-W London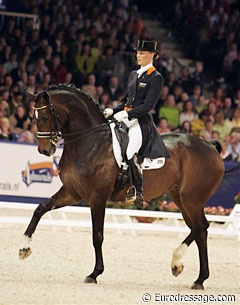 No lack of dancing and singing with the 'tenors unlimited' and emotional Christmas hymnes, but the best performed dance in the FEI World Cup ™ Dressage qualifier in London came from Dutch Imke Schellekens-Bartels and the Hanoverian mare Sunrise.
"Some people call it a story, I do call it a true dance for two! And tonight I was really very impressed by the elegant mare Sunrise and the dance she performed with Imke. It was harmonious, flowing and really easy", the chairman of the judges Canadian Cara Whitham commented.
For Dutch Imke Schellekens-Bartels the Olympia Horse show 2006 won't be forgotten easily. "I never thought Olympia would be my term, especially with such great riders Isabell Werth and Kyra Kyrklund competing! But my mare Sunrise was in very good shape, as I already felt yesterday in Grand Prix. I had a personal record score of 73,625% in Grand Prix. Today Sunrise made me happy again. It is a very good feeling to be able to count more and more on her safety and reliability in the test. I won't forget this first ever World Cup™ win", Imke smiled. Her easily performed master class previous to the FEI World Cup™ qualifier Dressage on OO Seven, also a debut being her first ever in a foreign language, probably also set the stage for her self confident ride and win in the World Cup™ qualifier.
Isabell Werth, winning in Maastricht, now became the runner up. Her horse Warum Nicht FRH was spooky sometimes and jumped sideward and forward because of a spot in the walk and in the extended canter. "I cannot blame my horse", Isabell Werth commented, "the Olympia arena is very impressive and Hannes was impressed too!"
The next World Cup qualifier for Isabell Werth will be this weekend in Frankfurt, riding Polano.
Kyra Kyrklund becoming third in London on Max didn't make up her mind before London yet for the goal chasing a place for the FEI World Cup ™ Final Las Vegas. Now she did: "As World Cup shows are stamped by a good standard, I feel I should try to compete in some more World Cup qualifiers", Kyra commented.
For British Laura Bechtolsheimer the Olympia Horseshow in London stamped her return in the saddle. She suffered badly from a neglected kidney infection which kept her in hospital for a while. Now the winner of the B-Final in Amsterdam of this year became the best British participant in London. A remarkable performance also had British amateur rider Stephanie Croxford on her elevated moving Gelderland-bred horse Mr President IV. Her three months pregnancy didn't keep her from competing and reaching the eighth position with a cheerful happy ride. Pregnancy didn't refrain Dutch Anne van Uytert from competing either. The Christmas Flanders Horse show in Mechelen will be her last FEI World Cup ™ Dressage qualifier before her maternity leave.
The next FEI World Cup ™ qualifier will take place in Frankfurt (GER) this weekend.
Related Links
Scores 2006 CDI-W London
Back to the 2007 World Cup Index