Westfalian Breeding News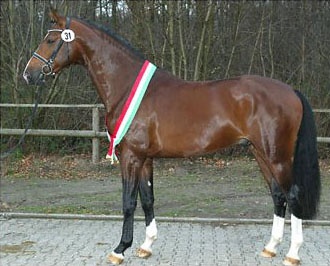 The bay Ehrentusch x Ferragamo x Florestan colt became the Licensing Champion of the 2006 Westfalian Stallion Licensing in Munster-Handorf, Germany, on November 29, 2006.
Bred and presented by Norbert Borgmann, this bay colt is not very modern looking but his movements were outstanding. The colt is a full brother to the licensed stallion Edelmann, who sold for 225,000 euro to Sissy Max-Theurer and now carries the name Eichendorff.
The licensing champion sold for this year's record auction price of 535,000 euro to Axel and Sandra Schürner of the Rhineland based Gestüt Neuenhof and will be stationed at Gestut Ligges.
The reserve licensing champion was the Fidermark x Rockwell x Salinator colt who is bred by the family Summen. He sold for 90,000 euro at auction. The third placed stallion was the delightful Lord Loxley x Lancer II x Corleone bred and presented by Mr Wilbers and Mr Faymonville. This horse sold for 180,000 euro.
The champion of the licensed show jumping colts was the Cassini x Linaro x Cicero. This dark bay stallion is bred by the Dutchman Herman Seiger and owned by the Frenchman Xavier Marie. This stallion was not for sale and will be standing at stud at Gestut Holkenbrink.
86 stallions were presented at the 2006 Westfalian Stallion Licensing. 50 of them were licensed, 15 got a place in the premium ring. For the first time, Westfalen organized an auction of licensed stallions. 49 stallions were presented in it. Though Westfalen achieved higher prices than the Oldenburg licensing in Vechta, Westfalen chose to license quantity over quality. Nevertheless, there were some really lovely young stallions in the Westfalian collection.
Photo copyrighted: M.Mense
Related Links 
Cornado 2005 Westfalian Licensing Champion
Fidertanz, 2004 Westfalian Licensing Champion
Dancing Dynamite, 2003 Westfalian Licensing Champion
Rosencharmeur, the 2002 Westfalian Stallion Licensing Champion 
Don Bedo, 1998 Westfalian Stallion Licensing Champion