2007 World Cup Finals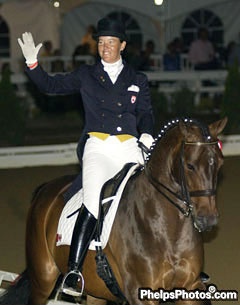 For the first time in her career, Jacqueline Brooks of Mount Albert, Ontario (CAN) won the FEI World Cup™ Canadian League Final, Presented by Yamana Gold, at the Royal Agricultural Winter Fair in Toronto, ON.
A hometown favourite at the Royal Horse Show, Brooks has competed at the Royal Horse Show on four previous occasions, but the fifth time proved to be the charm. Brooks and Gran Gesto displayed harmony and a high degree of difficulty as they performed their Grand Prix Freestyle to powerful and epic music from the motion picture, 'Alexander'. The panel of five international judges rewarded their competitive performance with the winning score of 71.35%. It was a decision that the 6,500 audience members in the sold-out Ricoh Coliseum agreed with, erupting into cheers as Brooks and her 11-year-old dark bay Oldenburg gelding, owned by Brinc Ltd. and Anne Welch, seemingly piaffed forever before coming to their final halt.
For the judges, the winner was clear. President of the Ground Jury, Canada's own Cara Whitham, commented, "For me, the winner was clear cut. Jacqueline had very interesting and difficult choreography, taking well-calculated risks that worked for her. I was very impressed by her one-tempis on a 20-meter circle, which had beautiful jump and were absolutely straight."
As the winner of the Grand Prix Freestyle, which acted as the final event in the FEI World Cup™ Canadian League, Brooks, 39, earned the right to be Canada's sole representative at the 2007 FEI World Cup™ Final next April in Las Vegas, USA.
Although Evi Strasser had won the Grand Prix test on Wednesday with a score of 66.208%, the placings only served to determine the order of go for the Freestyle and were not calculated into the final results. In the Freestyle, Strasser of Ste-Adele, QC, and Quantum Tyme performed what has become known as their signature freestyle program, featuring music from the Disney classic, 'The Lion King'. Although Strasser and her 11-year-old Oldenburg gelding, which she purchased eight years ago at auction, gave it their best effort, their final score of 69.45% left them as the runner-ups for the third year in a row.
Jon Costin of Freelton, Ontario (CAN) performed his crowd-pleasing disco-themed Freestyle with his elegant Hannoverian gelding, Wholio. Unfortunately, they suffered a harsh penalty for performing a canter pirouette that exceeded the limit of two turns. Their score of 55.65% left them in third place.
Resuls - FEI World Cup™ Canadian League Final
1. Jacqueline Brooks, Mount Albert, Ontario(CAN)& Gran Gesto. Grand Prix:63.500%, Freestyle:71.35%
2. Evi Strasser Ste-Adele, Quebec (CAN) & Quantum Tyme. Grand Prix: 66.208%, Freestyle: 69.45%
3. Jon Costin Freelton, Ontario (CAN) & Wholio. Grand Prix: 59.417%, Freestyle 55.65%