KWPN Breeding News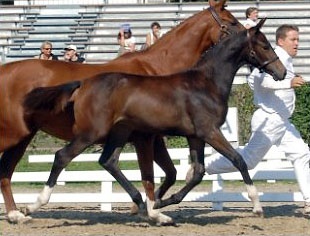 Two Sandreo (Sandro Hit x Flemmingh) foals claimed the highest honours at the 2006 French Foal Championship in Saumur, France, September 21-24, 2006.
The French Champion Filly of 2006 was Shenandoah, by Sandreo out of Die Dame (by De Niro x Weltmeyer). The bay filly is bred and owned by the 27-year old American (MI) born Caroline Klopocki.
Placing second in the filly championship was Surprise de la Roque, a Qredo de Paulstra x Plein d'Espoir offspring bred and owned by Albert Mellet.
The bronze medal went to Spirit, a Sandreo filly out of Revue (by Rubinstein) that is bred and owned by Benoit Burban.
The 2006 French Champion colt was Sambejah des Abeilles, by Sandreo out of Gaby de Percip (by Univers d'Elle). Bred and owned by Emanuelle Goubert, Sambejah was overall the highest scoring foal at the French Breeding Championships.
The silver medal went to the colt Swing Star. Bred by French Grand Prix rider Philippe Limousin, Swing Star is by Limousin's Grand Prix stallion Joeris out of Rozalinde (by Jazz).
The bronze went to the Holsteiner pedigreed San Pedrone (by Loutano x I Love You). Geoffroy de la Ferte is the breeder and owner of this colt.
Results
Colt Championship
1. Sambejah des Abeilles (Sandreo x Univers d'Elle) - 82.67
2. Swing Star (Joeris x Jazz) - 82.00
3. San Pedrone (Loutano x I Love You) - 75.50
4. Surst du Meugon (Furst Heinrich x De Niro) - 75.00
5. Sinatra du Village (Loutano x Phountzi) - 74.83
6. Surgraf de la Brosse (Burggraaf x Quabri de Laleu) - 73.83
7. Staccato de Mesille (Don Frederico x Werther) - 72.67
8. Saint Louis d'Horset (Sandreo x Alme) - 72.67
9. Siglavy Serena (Siglavy Fabiola x Favory Bianca II) - 72.00
10. Deniro du Feuillard (De Niro x Ragazzo) - 71.83
Filly Championship
1. Shenandoah (Sandreo x De Niro) - 81.83
2. Surprise de la Roque (Qredo de Paylstra x Plein d'Espoir) - 79.83
3. Spirite (Sandreo x Rubinstein) - 79.67
4. Star du Valgrente (Qredo de Paulstra x Baxt de Quetehou) - 79.50
5.Sally du Lohan (Flipper d'Elle x Rubens d'Helby) - 79.00
6. Sunny Girl (Don Frederico x Ex Libris) - 78.67
7. Ciabella du Feuillard (Gribaldi x Voltaire) - 78.17
8. Fortuna de Hus (Furst Heinrich x Sandro) - 74.50
9. Standinf d"Herbord (Joeris x Laeken) - 74.00
10. Salsa du Lattay (Depardieu x Negro) - 73.17
Related Links 
Sir Donnerhall and Laurentio Get Win 2005 German Foal Championship 
Cornet Obolensky Offspring Wins 2004 German Foal Championship