2006 Spanish Dressage Championships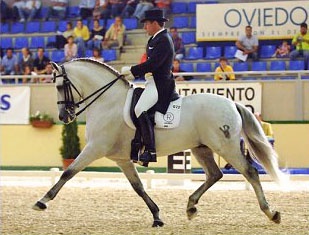 In the absence of Spanish top riders Ferrer-Salat, Rambla, Soto and Jimenez, the up and coming combination Rafael Ortiz and G-Nidium won the national champions' title at the 2006 Spanish Dressage Championships at the Centro Ecuestre el Asturcon in Oviedo, Spain, September 22-24, 2006.
Rafael Ortiz and G-Nidium, an Andalusian PRE stallion by Perdiguero II x Pestillo, were third in the Grand Prix but won both the Special and the Kur to Music. Their overall average score of 68.075% was the highest and that earned them the gold medal at the 2006 national dressage championships.
The silver medal was won by Enrique Cruces Fernandez, who rode his Andalusian stallion RMS Keops to an average of 67.845%. The bronze medal wen to Eva Maria Navarro on Cristiano. They got an average of 66.563%.
The Small tour Championship was won by the young rider Carman Naesgaard on Ciowa. She beat Beatriz Ferrer-Salat on Cassandro. Juan Matute finished in the third position with Wie Atlantico (by Wie Weltmeyer).
Photo copyrighted: Juan Olivares
Results
Grand Prix:
1. Enrique Cruces Fernandez - Keops - 66.63%
2. Ignacio Lopez Porras - Nevado Santa Clara - 65.54
3. Rafael Ortiz - G- Nidium - 64.88
4. Juan Manuel Munoz - Fuego XII - 64.63
5. Eva Maria Navarro - Cristiano - 63.71
6. Jose Antonio Garcia Mena - Remate III - 63.67
7. Eduardo Mellado - Hortelano - 63.5
8. Raul Pereda - Latino - 63.21
9. Jose Maria Sanchez Cobos - Fogonero - 62.38
Grand Prix Special
1. Rafael Ortiz - G- Nidium - 68.8%
2. Enrique Cruces Fernandez - Keops - 67.76
3. Eva Maria Navarro - Cristiano - 67.08
4. Eduardo Mellado - Hortelano - 66.32
5. Jose Antonio Garcia Mena - Remate III - 65.84
6. Ignacio Lopez Porras - Nevado Santa Clara - 65.64
7. Juan Manuel Munoz - Fuego XII - 65.32
8. Victor Alvarez Diez - Selecto II - 64.44
9. Jose Maria Sanchez Cobos - Fogonero - 63.12
10. Raul Pereda - Latino - 62.4
Grand Prix Kur to Music
1. Rafael Ortiz - G- Nidium - 70,55%
2. Jose Antonio Garcia Mena - Remate III - 69,4
3. Enrique Cruces Fernandez - Keops - 69.15
4. Eva Maria Navarro - Cristiano - 68.9
5. Ignacio Lopez Porras - Nevado Santa Clara - 68.5
6. Juan Manuel Munoz - Fuego XII - 68.05
7. Eduardo Mellado - Hortelano - 67,7
8. Victor Alvarez Diez - Selecto II - 66.4
9. Raul Pereda - Latino - 66
10. Borja Carrascosa - Remigius - 64.7
2006 Spanish Dressage Championships
Gold: Rafael Ortiz - G- Nidium - 68.075%
Silver: Enrique Cruces Fernandez - Keops - 67.845
Bronze: Eva Maria Navarro - Cristiano - 66.563
4. Ignacio Lopez Porras - Nevado Santa Clara - 66.561
5. Jose Antonio Garcia Mena - Remate III - 66.302
6. Juan Manuel Munoz - Fuego XII - 65.998
7. Eduardo Mellado - Hortelano -65.84
8. Victor Alvarez Diez - Selecto II - 64.322
9. Raul Pereda - Latino - 63.869
10. Jose Maria Sanchez Cobos - Fogonero - 62,965
score courtesy: Pablo Alvarez
Related Links
Jimenez Wins 2005 Spanish Dressage Championships in Home Town 
2005 SICAB: Annual Iberian Horse Extravaganza at SICAB 
Scores of the 2004 Spanish Dressage Championships 
ANNCE Promotes Purebred Spanish Horses at the 2002 World Equestrian Games in Jerez
Scores of the 2003 Spanish Dressage Championships
Ferrer-Salat, 2001 Spanish Dressage Champion