2006 World Equestrian Games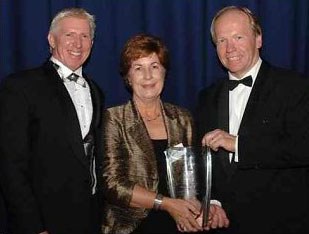 "Firsts" seem to go hand in hand with Mary Seefried. She was Australia's first female Olympic level judge (one of only 25 in the world), the first Australian and first female member of the International Equestrian Dressage Committee
, and Queensland's first female Parliamentary Librarian since 1860.
Last week, she was one of only three judges who officiated in both Dressage individual medal rounds – the Grand Prix Special and the Grand Prix Freestyle – at her first world championships, the World Equestrian Games in Germany.
Seefried said the experience was significant because it was the first time individual medals were given for the Grand Prix Special, as well as the Freestyle.
"That's raised the importance of the Grand Prix Special. I think the other thing is that coming into this competition there was an expectation that it was more open than it had been in the past – that more countries were knocking at the door – and that already gave it a special atmosphere and certainly that's how the results came out," Seefried said.
Seefried said the Australian Dressage team performed above expectations in the sense that two riders were among the top 30 who qualified for the Special for the first time at a world championship.
"That's very significant," Seefried said. "They looked very much in place here. I think their performances and the way we're riding and training was noted by more people than we think. Kristy [Oatley] especially had a very solid ride in the Grand Prix, as did Matthew [Dowsley]."
Seefried said Australia's riders needed as much international experience as they could get leading up to the Beijing Olympics and beyond. "I think they need to stick with the program that the EFA has started and ensure that training and competition opportunities are created and followed through," Seefried said. "I think we have a sound basis now for a good solid team for Beijing. There are already other riders back in Australia, and in Europe, who are working towards that."
Seefried competed initially in eventing and showjumping before getting married and starting a family. She took up dressage, riding at state and national level, and then became involved in the sport as an administrator, an event organiser and an officiator.
After judging for some years in Australia, Seefried was supported by the EFA to sit the FEI International Candidate exam while she was in France on a scholarship doing a Masters in Town Planning at the University of Paris.
She became an international equestrian judge in 1983 and was appointed as one of only 25 Olympic-level judges in the world in 1998 – the first and only Australian. Seefried officiated as a judge at the 2000 Sydney Olympics and the 2002 Asian Games in Korea. She will be judging this year at the 2006 Asian Equestrian Games in Doha.
She judged two World Cup Finals – Dortmund in 2000 and Düsseldorf in 2004 – and was appointed as an international judge educator in 2004.
Elected onto the newly structured national EFA board in March 2004, Seefried has been a Queensland delegate on the national EFA Council for more than 20 years, a national Dressage selector from 1994 to 2005, and was elected president of Equestrian Queensland from 2002 to 2004 after serving on the Equestrian Queensland state board for 12 years.
As Queensland Parliamentary Librarian, Seefried manages a team of about 30 people that provides research and information services, media monitoring and parliamentary education services to MPs and the wider community.
Photo copyrighted: Sports Federation of Queensland - depicting - The Hon. Peter Beattie MP, Premier of Queensland (right) presenting the 2005 Premier of Queensland Federation Patron Service to Sport Award to Mary Seefried, who was well supported by Rob Ferguson, General Manager of Equestrian Queensland.
Back to the 2006 WEG index