2006 World Championships for Young Dressage Championships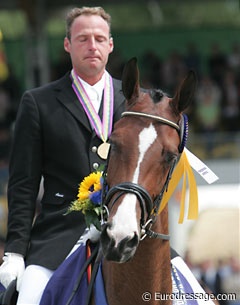 I bet you no one would have ever thought that Uzzo would become the new 5-year old World Young Dressage Horse Champion? When Sir Donnerhall made two lethal mistakes in his finals ride and Susan Draper's San Remo got underscored by the judges
, all of a sudden everyone -- judges, audience and rider -- came to a shock realisation that Uzzo was the highest scoring horse in the Finals. This explains the utter joy, happiness and tears on Patrick van der Meer's face during the award ceremony. What an interesting finals. Goes to show that an underdog can win!
The 2006 World Championships for Young Dressage Horses in Verden were blessed with good weather. After a full month of tropical heat in July, rain and thunder storms were terrorising Western Europe begin August, but it was a miracle that the Verden show grounds got spared from rain from Thursday to Sunday. A miracle! The show was set under a shimmering sun and with the young horse classes taking place in the big stadium arena, a real "championship feel" returned to Verden (which was a bit absent last year with the World Young Horse Championship being ostracized to a small ring at the far end of the race track).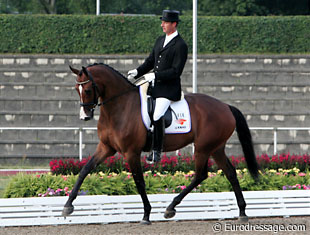 OK, back to Uzzo. This KPWN branded Lancet x C-Indoctro gelding was the best performing 5-year old of the Dutch team and already madea a striking impression during the first round. Van der Meer and Uzzo put don a very safe performance in which the lightfooted, flowing trot was the highlight. There could have been more flexion of the hocks in the canter and Uzzo could have stretched more into the contact during the rising trot section, but overall, the bay did an outstanding job and scored 8.3 in the first round. He placed fifth, two placed behind the Dutch pair Hans Peter Minderhoud and Uptown.
In the Finals, Uzzo looked even sharper. The trot was uphill, smooth, balanced and showing outstanding self carriage. Only the extensions were a bit conservative as there could have more lenghtening in the strides. The walk was good, but there could have been more over step. In canter, Uzzo was active and engaged but the hind legs could have jumped more under the body. Sometimes there was a slight loss of rhythm. Overall, the lightness with which Uzzo moved and the fantastic soft contact that Van der Meer maintained with the horse's mouth. Uzzo was relaxed in his work and that's what we love to see. He scored 8.58 overall.
You Ain't Seen Nothing Yet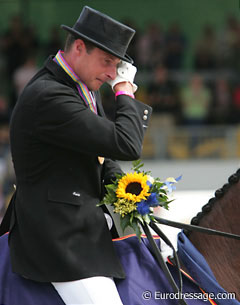 After Uzzo's finals ride, commentator Christoph Hess praised the horse for its "elegant and lightfooted" way of moving. The panel of judges scored him 9.0 for trot, 7,8 for canter, 8,6 for walk, 8.7 for submissiveness and 8.8 for general impression. Their overall mark was 8.58.
8.58 was an excellent score, but the field was still open and everybody was certain they hadn't seen the winning ride yet. Anne Svanberg's Hermes, Ulf Möller's Sir Donnerhall, Minderhoud's Uptown and Sjobeck's Shantiana were still to come and most of them were horses with the potential to beat Uzzo. However, one after the other got a lower score and when Shantiana was about to enter the ring, one thought came to mind "Is Uzzo going to win this?" and yes he did. Shantiana got 8.48 and placed fourth. What a thrilling finals, it's just wonderful when the outsider wins once in a while.
Van der Meer was ecstatic and could not believe what just happened. The award ceremony was, therefore, a beautiful, emotional prize giving and a couple of hours later during the press conference, van der Meer was still beaming. "Never would I have thought that I would come here and become the world champion," he said. "It's unbelievable."
Uzzo, A Show Jumping Project Gone Dressage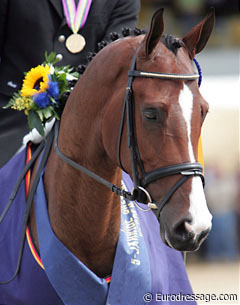 Van der Meer purchased Uzzo as a three-year old and showed him in the Pavo Cup finals as a 4-year old in which he finished 8th overall. Van der Meer confirmed that he won't be riding the Pavo Cup Finals this year now that he claimed his World Champion's title. "You never know what might happen. A judge might score him down now, just because he doesn't like his ears," Vaan der Meer joked.
Uzzo was bred Mr Schonewille in The Netherlands. He's by Lancet out of a C-Indoctro dam. In 2000, Mr Schonewille had planned to breed his show jumping dam to a U.S. based jumper stallion but by the end of the breeding season the mare hadn't caught yet. His veterinarian, who was at the time part owner of Lancet, suggested him to use Lancet as a final good-luck try before calling it quits. Just having used one straw, the mare got in foal to Lancet and Uzzo was the result.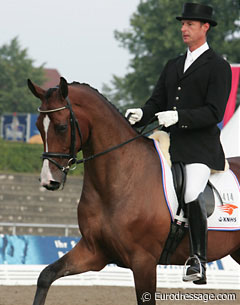 Van der Meer runs training stable "De Hoeve" with his wife Sylvia in Naaldwijk, The Netherlands. He trains and competes youngsters but also has several FEI horses. He recently his client's Holsteiner Grand Prix horse Allassio at the CDI Falsterbo and in Verden he was also riding the big tour aboard Ogami.
Patrick stated that he had no intention of selling Uzzo. "I want to prepare him for next year's World Championships. I had fun this year and want to give it a try again next year," he told Eurodressage.
Photos © Astrid Appels - NO REPRODUCTION ALLOWED
Next Page of the Report / Back to the 2006 World YH Championship Index