2006 World Championships for Young Dressage Horses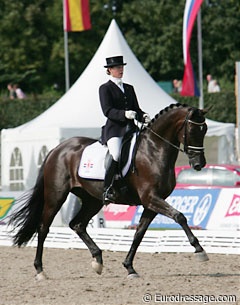 The silver medallist in the 6-year old division was Hyperion's Tanirma under the Dutch rider Sarah van Fessem. The black mare is by De Niro out of an Inspekteur dam and impressed with her incredible lightness in her movements
, especially in the final round when the tension and insecurity in the horse got deleted from their performance.
In the first round, Tanirma landed a fifth place with 8.2. Her trot was very light and flowing but in the second extension there were uneven steps. The rein back was bad and the mare was grinding her teeth all the time. In the second round the mare looked more confident and relaxed. The trot was balanced and lightfeeted, the walk outstanding and the canter nicely uphill. Only the third flying change was early behind and the final transition from canter to trot was difficult. Nevertheless the 8.90 for trot, 8.00 for canter and 9.20 for walk helped to lead to an 8.76 overall mark and the silver medal.
By the way, did we tell you that there were three De Niro offspring in the 6-year old Finals: Tanirma, Dablino, and Danone.
Back One Page / 2006 World YH Championship / Next Page of the Report