2006 World Championships for Young Dressage Horses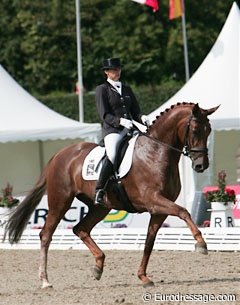 Last year she was the bronze medallist in the 5-year old division, this year she just missed out on one in the 6-year old division. Nevertheless, FBW Dejavu (by Dacaprio) and Nadine Plaster continued to impress the judges and the crowds.
In the first round she showed a sublime trot, elastic with super bounce and she was constantly nice in the hand. In walk she had two hooves overtrack. Her canter, which is her weakest point, was clearer in the rhythm than last year but there was a mistake in the second flying change. Her first round score of 8.38 ranked her third.
In the Finals, FBW Dejavu was a tiny bit less brilliant than in the first round. The quality of the trot was still superb, but she could show more bend in her entire body, especially the topline. In the canter there were some tiny imperfections in the flying changes (late, early, before the aid). Her 8.58 overall score put her in fourth place.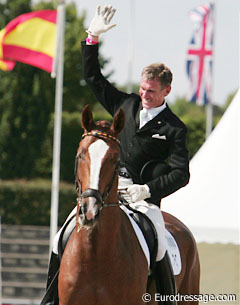 An especially interesting combination was Holga Finken on Dablino. The Hanoverian gelding by De Niro is a real FEI calibre horse, but he was a especially spooky in the first round. Even a young horse master like Holga Finken had his hands full riding the chestnut gelding with relaxation. The trot was rhythmical with beautiful extensions, the walk was good, but there was a mistake in one flying change. They scored 7.80
Dablino, who is owned by Klaus Balkenhol, was a different horse in the finals: much more confident. The trot was well engaged and showed an excellent difference in tempo between the medium and extended trot. In walk, Finken had to make tiny corrections with the hand and the first walk pirouette was mediocre, but the second one good. The rider's aids were a bit too strong in the second and third flying change while the first and fourth were really smooth. The canter is nicely uphill. The overall score of 8.32 placed them fifth.
Back One Page / 2006 World YH Championship / Next Page of the Report