2006 World Championships for Young Dressage Championships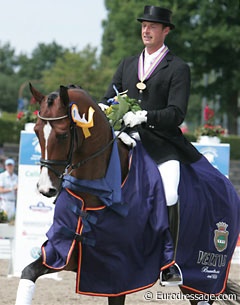 What an interesting 5-year old final. Quality wise the best horse did not won, but Van der Meer presented Uzzo in such a lovely fashion. Light, balanced, correct and fault free.
Van der Meer can just not believe what has happened. The top favourite for the gold, Sir Donnerhall, made two mistakes in the canter tour and Van der Meer landed on first place. The pair won the gold medal.
Sir Donnerhall and Dr. Ulf Möller was the hopeful for the title, especially after his victory in the first round. Sir Donnerhall (Sandro Hit x Donnerhall) neighed his way through the trot tour causing tension and imbalances. In the counter canter, there were three hiccups where the Oldenburg stallion tried a flying change. Möller had to make a transition to walk three times to get the problem fixed, but the damage was done and the gold lost.
Möller's face says it all. What a pity. Sir Donnerhall has a very good walk and a phenomenal canter, but in the trot the horse does not track up enough, even though he is active. Despite the mistakes in the test, the judges scored Sir Donnerhall's gaits with 9.2 (trot), 8.5 (walk) and 9.0 (canter) which the audience did not appreciate. There was much booing and whistling from the crowds but Möller took it with good grace.
Sir Donnerhall and the bronze medallist San Remo showed the best paces at the World Championships and the judges were correct to score them highly (although some fractions of points were too high or too low). The judges were right in penalizing submission in Sir Donnerhall's ride (6.5) for the mistakes made. The overall impression of 9.5 was overscored, notwithstanding that Sir Donnerhall is world class. They scored 8.54 in total and earned the silver.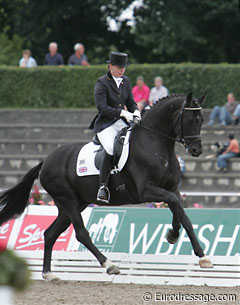 Bronze medallist Susan Draper and San Remo (Sandro Hit x Donnerhall). Absolutely lovely ride in balance. The horse moved rhythmically and relaxed. The three gaits are absolute top quality and the judges could have been more generous, especially in the canter. They gave San Remo 8.7 for canter, but he canters for a 9.5.
Photos copyrighted Astrid Appels/Eurodressage. No Reproduction Allowed
Back to the 2006 World YH Championship Index