2006 World Championships for Young Dressage Championships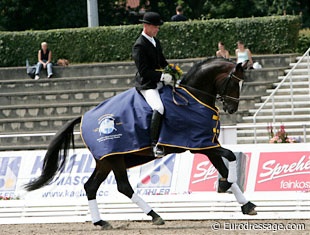 We're posting some photos first as an appetizer, before offering you the long report on how all the rides went. Enjoy. Winner of the 5-year old Preliminary round, Sir Donnerhall (Old, Sandro Hit x Donnerhall) and Dr. Ulf Möller.
They scored 9.1 and were the only pair to hit the 9 overall mark.
The surprise of the day, the Danish warmblood mare Treldegards Shantiana (by Blue Hors Hertug). Her rideability is unbelievable. She might not be as flashy as the many breeding stallions that competed in the class but her three outstanding basic gaits and an amazing temperament got all blended into a smooth test. 8.44 and a second place for Dorthe Sjobeck Hoeck and Shantiana. Well Done!!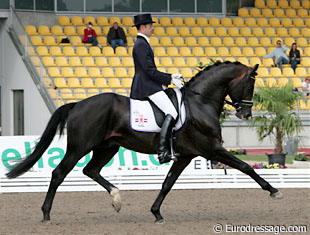 Dutch pezzazz, Hans Peter Minderhoud and Uptown (KWPN, Kennedy x Ubis). This bay stallion has three phenomenal basic gaits but was too tense and stressed during the ride. The 8.8 for submission was too generous, but the 8.7 and 8.6 for trot and canter were correct. Lovely horse.
Anna Svanberg with the Swedish warmblood Hermes (Rambo x Urbino). Lovely pair, smooth, elegant, lightfeeted, relaxed. The way we want to see it!
Patrick van der Meer and Uzzo, a lovely KWPN gelding by Lancet x C Indoctro. Uzzo and Van der Meer showed good balance and suppleness in all three gaits. They finished fifth.
Jan Dirk Giesselmann and Falcao (Oldenburg, Florestan x Donnerhall). Totally underscored. One of the most exciting combinations in the 5-year old division. Total relaxation, lightness, uphill and a fantastic trot and canter combined with a solid walk. The judges were too strict and the walk. Giesselmann and Falcao deserved a top four place!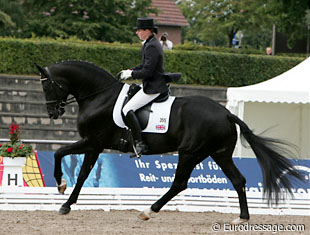 What a pair. Susan Draper and San Remo (Sandro Hit x Donnerhall). Superb rideability, total harmony. An error in program pushed them back to 8th place.
Miriam Henschke and Damenwahl (Donnerhall x Rubinstein). Another pair that deserved to have placed much higher. Superb trot work, fantastic walk, outstanding canter and all that served in total harmony and relaxation. What more do you want!
Photos copyrighted Astrid Appels/Eurodressage. No Reproduction Allowed
Back to the 2006 World YH Championship Index