2006 European Junior and Young Riders Championships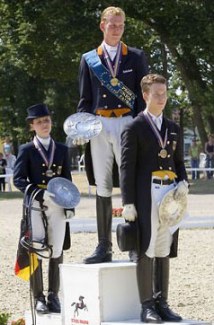 Dutch Diederik van Silfhout became the 2006 European Junior Riders Champion in an extremely tight duel with German Verena van der Linde. Although German Van der Linde and her mare Mitchell (by Inspekteur) were dominating the 2006 European Junior Riders Championships
in the first two tests, she was unable to pull it all the way and claim the gold medal.
The Individual Finals' Kur to Music was a true German-Dutch dressage thriller. The Dutch Diederik van Silfhout presented a brilliant freestyle and got a dream result of 74,750%. After his ride, Verena van der Linde equalled his level and achieved exactly the same score of 74,750%. However, the decision about who wins gold is officially based on the artistic note, in which there was one point difference between Van Silfhout and Van der Linde. Aboard the KWPN stallion Paddox (by Ferro), Diederik van Silfhout won the European Junior Riders Championships.
The Bronze medal went to a German rider. Tom Berg and his 13 years old gelding Borodino achieved a result of 74,250%. Best Austrian rider was Katharina Wünschek and her 15 year old gelding Atoutprix. She was the only Austrian able to qualify for the freestyle. In the final, she improved her performance going from 14th place to an 11th individual spot in the freestyle with 66,900%.
Photo courtesy: Michael Rzepa - www.horsepictures.at
Back to the 2006 European Junior/Young Riders Championship Index