2006 Bundeschampionate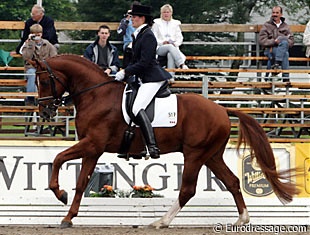 Big successes for the Ingo Pape stallions at the Bundeschampionate qualifier in Hamburg-Timmerberg. Susan Draper/Pape won both the 5 and 6-year old Dressage Horse class and obtained two tickets for the Bundeschampionate Finals in Warendorf in September.
Pape won the 5-year old Dressage Horse division on the Oldenburg stallion San Remo (Sandro Hit x Donnerhall). With an 8.5 she took the lead and kept Sonja Marie Ellerbrock at bay. Ellerbrock placed second with 8.3 aboard Satchmo H, a Hanoverian by Sandro Hit x Galvano.
In the 6-year old division, Pape scored the highest with the licensed stallion Riverside (by Regazzoni x Donnerhall). They achieved a fantastic 9.0 score. Anja Hermelink and Prinzessin, a Brandenburg bred mare by Lord Sinclair, placed second with 8.8.
Results
5-year old Dressage Horses and 6-year old Dressage Ponies
1. San Remo - Pape,Susan - 8.5
2. Satchmo H - Ellerbrock,Sonja Marie - 8.3
3. Soleil - Hannöver-Sternberg,Martina - 8.2
4. Dixieland - Kochskämper,Nicole - 8.1
5. Rosa Bianca - Christensen,Martin - 8.0
5. Rotspons Lady - Lieth von der,Dirk - 8.0
7. Liebe Lisa - Blanken,Stefan - 7.6
8. FS Delon - Brandt,Inga Joraine - 7.5
6-year old Dressage Horses
1. Riverside - Pape,Susan - 9.0
2. Prinzessin - Hermelink,Anja - 8.8
3. Anastacia - Hein,Stefanie - 8.5
4. Dainty Diva - Baumgart,Britta - 8.4
5. Waltzing Matilda - Kirschnick,Nicole - 8.2
6. Dick Tracy - Koch,Peter - 8.0
7. Allerbeste - Baumgart,Hannes - 7.8
7. Daquino - Hannöver-Sternberg,Martina - 7.8
Back to the 2006 Bundeschampionate Index