2006 Bundeschampionate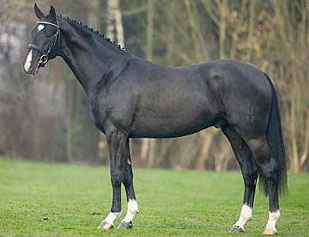 At the 2006 Westfalian Regional Dressage Championships in Steinhagen, Germany, two Bundeschampionate qualifier classes were held. With thirty-one 5-year olds and nine 6-year olds, the field of competitors was massive.
Don Bailey and Rob Roy were the winners of the Dressage Horse tests that counted as qualifier for the Bundeschampionate.
Ulf Möller won the 5-year old Dressage Horse division with the black Oldenburg stallion Don Bailey (Donnerhall x Pik Bube I). Even though Möller announced last year that he would retire from actively competing young horses, Möller has been in the saddle at shows the entire 2006 Bundeschampionate qualifier season with several horses. Aboard Don Bailey, he won the class with an 8.8 score, which is one of the highest marks of the season. Dutch Grand Prix rider Edward Gal travelled to Germany to qualify the German owned Oldenburg stallion Serano Gold (by Sandro Hit). With an 8.6 mark, Gal placed second and beat Insa Hansen on Do It Again (Dormello x Rubinstein). Hansen tied in third place with Jan Steiner and Peking (Polytraum x Paradox) on an 8.0 score.
The 6-year old Dressage Horse division Marlies Brakemper reigned supreme aboard Rob Roy, a Westfalian grey gelding by Royal Diamond x Rex Fritz. She scored 8.1. Ulf Möller placed second on the Oldenburg stallion Lord Optimist (Lord Sinclair x Cagliostro) with 8.0. Brigitte Wittig tied on second place aboard Biagotti W (by Breitling x Diego).
Results
5-year old Dressage Horses
1. Ulf Moller - Don Bailey - 8.8
2. Edward Gal - Serano Gold - 8.6
3. Insa Hansen - Do it again - 8.0
3. Jan Steiner - Peking - 8.0
5. Katrin Bettenworth - Dos OW - 7.7
6. Hiltrud Mormann - Soubirous - 7.5
7. Sandra Frieling - Wolkenzauber F - 7.4
8. Jenny Kitzing - Fritzchen - 7.3
9. Dirk Pohlmann - Raskovia - 7.3
10. Brigitte Wittig - Brioni W - 7.2
10. Jorg Dietrich - What happen - 7.2
12. Jonas Wittenbrink - Fürst Felix - 7.1
12. Brigitte Wittig - Bohigas W - 7.1
14. Stefanie Kerner - Per Sie - 7.0
15. Johannes Westendarp - Dornröschen - 7.0
16. Katrin Bettenworth - Denaro - 6.9
16. Peter John Weston - Absolut - 6.9
18. Uwe Duker - Davis Sun - 6.8
18. Sandra Frieling - Fine Fynn - 6.8
20. Marion Ulmker - Florence - 6.7
21. Ludger Knapmöller - Del Cento - 6.6
22. Sabine Richter - Romanowa - 6.5
23. Insa Hansen - Weltzauber - 6.4
23. Heinz Holger Lammers - Rosselini - 6.4
25. Christiane Hollmann Raabe - Lossow - 6.2
25. Carmen Koop - Donis - 6.2
27. Carmen Koop - Mantovani - 6.0
28. Kathrin Hollingshaus - Leo Minor - 5.8
29. Erik Bultjer - Dominus - 5.7
30. Erik Bultjer - Laurel - 5.6
31. Marion Wiebusch - Romero - 5.5
6-year old Dressage Horses
1. Marlies Brakemper - Rob Roy - 8.1
2. Ulf Möller - Lord Optimist - 8.0
2. Brigitte Wittig - Biagiotti W - 8.0
4. Carde Meyer - Ashley W - 7.4
5. Ingrid Klimke - Damon Hill NRW - 7.3
5. Daniel Hoffstadt - Calinus - 7.3
7. Helen Langehanenberg - Roman Lifestyle W - 7.1
8. Miriam Henschke - Do it my way - 6.7
8. Carola Koppelmann - Rom - 6.7
Back to the 2006 Bundeschampionate Index