2006 Bundeschampionate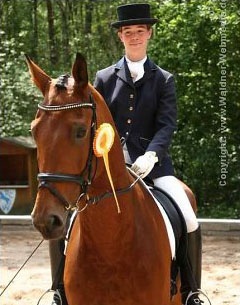 Arogna and Lancome won the Bundeschampionate qualifier in Weiden, Germany, June 24-25, 2006. A decent group of young horses gathered at the Weiden "Turnier Am Schwedentisch" to compete for a berth at the Bundeschampionate Finals in Warendorf in September.
Martina Haussmann (pictured) won the 5-year old dressage horse division aboard Arogna, a Bavarian bred bay mare by Riccione x Donnerhall. The pair scored 8.2 and stayed 0.1 point ahead of second placed Uwe Schwanz on Rhapsodie, a Bavarian bred mare by Sandro Hit x Rubinstein. Two riders tied on third place. Dorothee Schneider and Forward Looking (Fidermark x Dinard L) and Friederike Schulz-Wallner on In Flagranti (by Buddenbrock) both scored 8.0.
Former double European Young Rider Champion Jessica Werndl won the 6-year old dressage horse division with Lancome, a Hanoverian gelding by Lancier x Akzent II. They scored 7.5 and beat Isabella Sunday on Cacharel (by Carry) and Ralf Kornprobst on Winyamaro (Walt Disney x Trapper).
Results
5-year old Dressage Horses
1. Martina Haussmann - Arogna - 8.2
2. Uwe Schwanz - Rhapsodie - 8.1
3. Dorothee Schneider - Forward Looking - 8.0
3. Friederike Schulz Wallner - In Flagranti - 8.0
5. Maria Putz - Rainsborough - 7.7
6. Uwe Schwanz - Doc Holiday - 7.5
7. Christine Kaltenbock - Don Henry - 7.1
8. Benjamin Werndl - Simply Red - 7.0
9. Ulrike Kick - Royal Flash - 6.8
10. Michaela Beer - Dondolo - 6.7
11. Wolfgang Himsl - Warrington - 6.0
12. Siegfried Adler - Don Argentinus - 5.7
6-year old Dressage Horses
1 Jessica Werndl - Lancome - 7.5
2. Isabella Sundag - Cacharel - 7.3
3. Ralf Kornprobst - Winyamaro - 6.0
4. Andrea Eichenauer - Lord Ashley deL - 5.8
5. Uwe Schwanz - Quantano - 5.5
Back to the 2006 Bundeschampionate Index