2006 Bundeschampionate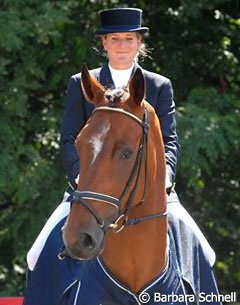 Rimko and Rhapsodie Queen were the winners of the Bundeschampionate classes held at the Park Festival Dressur in Bonn, Germany, July 1-2, 2006. Hosted at the Winkelhues Stable, this regional show in Bonn also featured classes up to Grand Prix level
, which were won by Isabell Werth on Satchmo.
In the 5-year old Dressage Horse division, Alexa Engel steered her Rimko, a Westfalian gelding by Rheingau x World Cup, to an 8.3 score and claimed victory in the class. Marion Schleypen and White Kiss (White Star x Bolero) ranked second with 8.1. Sonja Bolz and Christophorus (Colin L x Ferragamo) placed third with 7.6.
Sabine Grothe and Rhapsodie Queen topped the leader board in the 6-year old division. The black Oldenburg mare by De Niro x Lord Liberty G received 8.2 from the judges, the highest mark in that class.
Ingrid Berger and Rower BE (Rubioso N x Argwohn) landed a second place with 7.5. Third placed Marion Dautzenberg scored 7.3 on Fontainebleau (Fidermark x Weltmeyer) tying with Bernd Nothen on Aramis (Abanos x Pacco II).
Photos copyrighted: Barbara Schnell
Check out the Eurodressage Photo Report of the Park Festival in Bonn, where Barbara Schnell was on the Scene
Results
5-year old Dressage Horses
1. Alexa Engel - Rimko - 8.3
2. Marion Schleypen - White Kiss - 8.1
3. Sonja Bolz - Christophorus - 7.6
4. Bernd Nothen - Daily Pleasure - 7.4
5. Sabine Grothe - Camelot - 7.0
6. Kathrin Hollinghaus - Leo Minor - 6.8
7. Marcel Kanz - Samurai - 6.2
8. Daniela Dahlhoff - Fleurop - 5.6
8. Eva Schreckenberg - La Valletta - 5.6
6-year old Dressage Horses
1. Sabine Grothe - Rhapsodie Queen - 8.2
2. Ingrid Berger - Röwer BE - 7.5
3. Marion Dautzenberg - Fontainebleau - 7.3
3. Bernd Nothen - Aramis - 7.3
5. Gabriele Rund Kollner - Rossinol - 6.7
6. Johannes Augustin - Don Alvarito - 6.5
Back to the 2006 BuCha index