2006 Danish Dressage Championships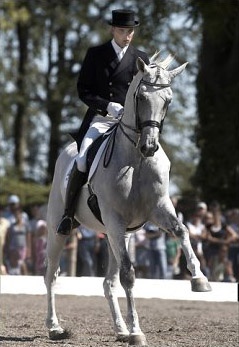 This time he didn't do it aboard a Blue Hors stallion; it was a mare with whom he took center stage! Andreas Helgstrand, Denmark's undisputed number one Grand Prix rider, won the 2006 Danish Dressage Championships in Broholm aboard the Danish warmblood mare Matine.
Winning the Grand Prix, Grand Prix Special and Kur to Music, Helgstrand and Matine scored 70.71%, 77.16% and 79.9% and stayed far ahead of the 14 other competitors for the national title.
International dressage judge Susanne Baarup Christensen revelled in Matine's performances. "She's a fantastic horse. She is an outstanding complete horse without any weaknesses. Her piaffe and passage are of extraordinary power and in short, it's a horse with an excellent moving mechanism." Matine is by Blue Hors Silver moon out of Matadi (by Matador). Dam Matadi also give birth to Richard Davison's Olympic mare Ballaseyr Royale. Matadi is only one of three foals that Matador produced while standing at stud in Denmark (before he went to Kyra Kyrklund).
Helgstrand is ecstatic and proud about his national title on the 9-year old Matine, but he will be riding Blue Hors Don Schufro at the 2006 World Equestrian Games in Aachen. "One day Matine will compete at her World Equestrian Games, but then she needs to be a bit more experienced," Helgstrand said.
The silver medal went to Lone Jorgensen and Ludewig. Jorgensen has been a consistent member of the Danish dressage team the past decade and is certain of a place on the Danish team for the 2006 World Equestrian Games. The bronze medal went deservedly to Joachim Thomsen, the shooting star on the Danish scene this year. Already proving his value by qualifying for the Kur to Music at the CDIO Aachen, Thomsen and his Danish warmblood Mikado Engvang are able to continue to improve show after show, which culminated in a bronze medal at the Danish Championships.
Photo copyrighted: Klaus Sletting Jensen - courtesy: DRF
Results
Rider - Horse - Grand Prix - GP Special - Kur - Total
1. Andreas Helgstrand - Matine - 70,71 (1) - 77,16 (1) - 79,9 (1) - 227,77 1
2. Lone Jørgensen - Ludewig G - 69,75 (2) - 73,60 (2) - 76,70 (2) - 220,05
3. Joachim Thomsen - Mikado - 68,67 (4) - 71,44 (3) - 74,15 (3) - 214,26
4. Nathalie zu Sayn-Wittgenstein - Digby - 69,42 (3) - 69,20 (4) - 72,60 (4) - 211,22
5. Fie Christine Skarsø - Münchhausen - 68,42 (5) - 67,84 (7) - 71,65 (5) - 207,91
6. Anders Dahl - Afrikka - 67,71 7 - 69,12 (5) - 70,80 (7) - 207,63
7. Sanne Henningsen - Clearwater - 67,96 (6) - 67,20 (8) - 69,60 (9) - 204,76
8. Jim Rasmussen - Midt West Dacapo - 63,92 (9) - 68,44 (6) - 70,35 (8) - 202,71
9. Michael Søgaard - Feisal - 63,58 10 - 67,08 (9) - 71,40 (6) - 202,06
10. Mette Holfelt Kristiansen - Lutz H - 64,38 (8) - 65,28 (10) - 65,65 (11) - 195,31
11. Sidsel M.Johansen - Woticelli - 62,21 (11) - 65,08 (11) - 67,95 (10) - 195,24
12. Finn K. Hansen - Lergårdens Leandri - 61,83 (12) - 63,96 (12) - 125,79
13. Lone Madsen - Marengo hrk - 61,17 (13) - 60,72 (13) - 121,89
14. Rie Møller Jensen Toftkærs Spejder - 60,42 (14)
15. Rune Willum Hansen - Dansk Avistryks Leroy - 59,71 (15)
Related Links 
Don, Matine and Hertug, 2002 Danish Young Horse Dressage Champions
Matine and Ballaseyr Royale, Half Sisters out of Matadi 
Tardi, Schianto and Clearwater, 2004 Danish Young Horse Champions